Personal Defense sees uptick in traffic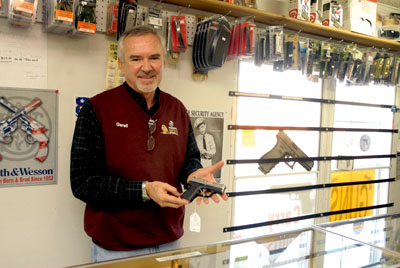 Garell Foshee, owner of Personal Defense Options, has seen an uptick
in customer traffic both in his store and for the business's carry permit classes.
---
Operating under national-level discussions of gun control laws, Garell Foshee's Personal Defense Options off Watt Road is seeing more business than ever.

"We've been in business five years and we haven't seen anything like this," Foshee said.

Shoppers visit his store to buy handguns, ammunition "and AR's, a lot of home defense shotguns. It's not just the guns the Democrats are trying to go after.

"We spend a lot of time every day trying to find inventory," he added.

Ammunition is becoming hard to find at retailers, and stores such as Wal-Mart have limited the amount of ammunition customers can buy per day.

"We're keeping about as much inventory as we normally did. Ammunition has been what most people have been out of, but we fortunately ordered a big stockpile of ammunition before all of this anti-gun commotion went down," Foshee said.

"We have had to raise our prices a little bit, because it's costing us what we used to sell it for," he added.

In addition to selling firearms and ammunition, Personal Defense Options also offers handgun carry permit classes.

Foshee said they're teaching 10 times as many people in their classes as they once were."We limit to 50 per class, and that was always sort of a joke to us, but now we actually are having to cut it off at 50. We were running at 15 to 20 per class and now we're cutting it off at 50," Foshee said.

"And we're having twice as many classes," he added.

Personal Defense Options typically offers three carry permit classes a month, and training and testing all can be done in that class.

"It doesn't matter how much experience you have, we start every class as though you have never seen or held a handgun before. So we start with the very basics," Foshee said.

Class cost is $65.

Foshee said he was surprised at the number of women visiting the store.

"It's amazing the number of women who have never considered owning or carrying or using a firearm who are now coming in not just to purchase a firearm, but getting a license," he added.

According to Foshee, the staff at Personal Defense Options work to make anyone feel comfortable in the store, particularly those inexperienced or uncomfortable with firearms.

"We wanted to have a place where the inexperienced person could come and ask questions and feel comfortable," he said.

"We don't mind trying to go through all that with them," he added.

Personal Defense Options also sells non-lethal defense options such as pepper and chemical sprays and stun guns.

"We highly encourage people, and not just women, but men too, to carry at least one type of non-lethal defense," Foshee said.

For more information about Personal Defense Options, 13701 Hickory Creek Road, visit www.personaldefenseoption.com or call 865-777-1010.