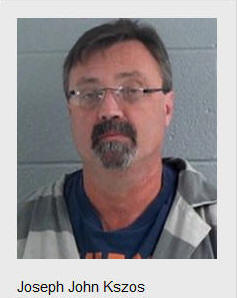 A state parole and probation officer is on paid leave after pleading guilty last month to felony reckless endangerment and refusing to take a blood-alcohol test.
Joseph John Kszos II, 54, served 10 days in Loudon County jail following his pleas of guilty to the endangerment charge and to refusing to take a blood or breath test for alcohol.
He was arrested Oct. 16 after he was stopped driving the wrong way on Interstate 75 in Loudon County and nearly colliding with other vehicles — including the cruiser driven by Loudon County Sheriff's Office Lt. Adam Yokley.
Kszos is assigned to the Knoxville office of the Tennessee Board of Probation and Parole, and is paid $3,252 per month. State officials did not say if he was placed on paid leave following his Oct. 16 arrest, or after entering his guilty plea Feb. 10 in Loudon County Criminal Court.
The Board of Probation and Parole "is still reviewing information we've received about this matter," spokeswoman Melissa McDonald said Friday.
The board cannot release any more information "until the review is complete," she said. "However, we're working to complete our review as soon as possible."
Kszos' lawyer, Gary Fox, declined to comment.
In warrants and his arrest report, Yokley wrote that at 9:28 p.m., Kszos' 2007 Nissan Altima was northbound on I-75 in the southbound lane, "almost striking (other) vehicles (and) heading straight towards me it finally stopped in front of my patrol vehicle in the median."
Kszos had a "strong" smell of alcohol, Yokley noted in his report. When asked to perform a physical field sobriety test he said that he could not do so because he has had both hips replaced and has a bad back, the lieutenant said.
Kszos then failed tests that involved counting and reciting parts of the alphabet, the officer wrote in his arrest report.
On Feb. 10, Judge E. Eugene Eblen approved a plea agreement reached in which the DUI first offense charge, a misdemeanor, was dropped in exchange for Kszos' guilty plea to the other charges. A charge of possessing prescription drugs that allegedly were found on Kszos when he was searched at the jail also was dismissed.
Eblen fined Kszos $500 and court costs, and ordered him to report to jail two days later. Jail officials confirm that Kszos served the sentence.
The judge placed Kszos in a judicial diversion program, in which Kszos could seek to have all records of the case expunged if he stays out of trouble for a year.