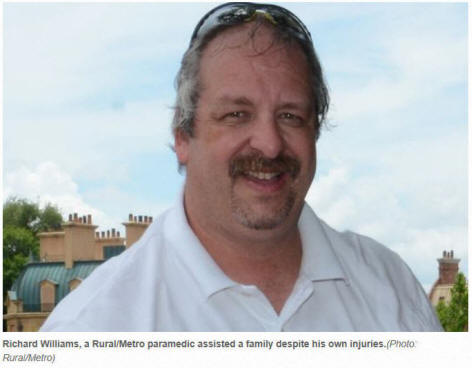 Emergency personnel are trained to save lives - and they will do whatever it takes to make that happen. On Wednesday, a Rural/Metro paramedic demonstrated that after he was involved in a Loudon County collision with a minivan.
"It's just instinct. When it's time to react and take care of people in need, that's what they do and what they know," said Erin Downey, Rural/Metro regional director.
The Tennessee State Highway Patrol said Jessica Creek was driving a minivan which was carrying her five children when she crossed the highway's center line, hitting the Rural/Metro Ambulance.
Paramedic Richard Williams, who was driving the ambulance, was injured in the collision, but decided to do his job anyway.
"He got out and he immediately began to assess the scene and assess the situation. He wanted to take care of those that were in most need," said Downey. "If you asked him why he did that when he was injured, he would say, That's my job.'"
Williams was unavailable to talk to us on camera Thursday, but his colleagues said his actions aren't surprising.
"I think it's just automatic. After making sure that you're alive and your partner is alive, that's just what you do," said Kimberly Garrison, Rural/Metro employee.
"We respond to accidents all the time, and our first instinct is to jump out of the truck, start triaging patients. I think adrenaline is going to take over at that point. You're going to forget about your own circumstances and do your job," EMT Alisha Mitchell added.
It was a tragic moment for Jessica Creek and her five children, all of whom were transported to the hospital for treatment as well as an EMT riding with Williams. Five-year-old daughter Lillian Creek remained in critical condition Thursday at East Tennessee Children's Hospital.
Williams, meanwhile, was doing "OK" on Thursday, according to Downey.
"He is healing right now," she said. "He had actually asked to return to shift that evening, and we told him to take some time off. He is taking a couple of days and will be back on shift soon."
The investigation into the crash is ongoing.