Last week I gave you the story of how in the world of education finance they have like magic math where numbers don't really have to add up or even make any since. Well, there's another chapter to the story.

The document below shows the director's recommendation as how to spread the wealth in the form of school employee raises. The last number at the bottom of the sheet shows that after all the money is spent, there would be $57,280.00 left. The same six school board members who voted to go with the director's recommendation also agreed to use the $57,280.00 left over for much needed maintenance issues at various schools. Seems like a fine plan. But wait.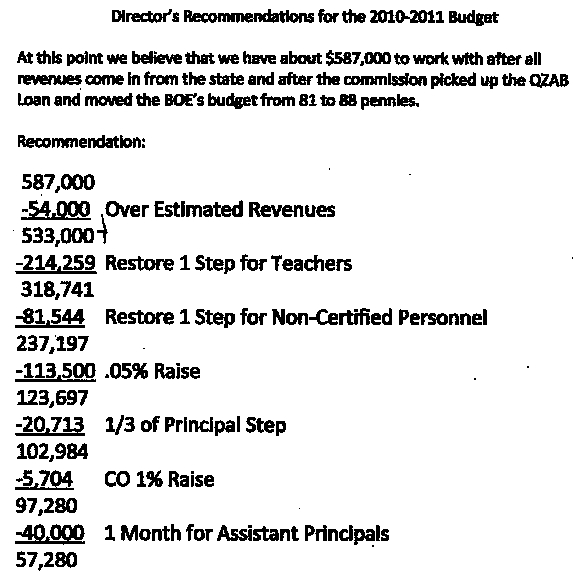 About a week after the six board members voted for the director's recommendation and to use the $57,280.00 for various maintenance issues at the schools, board members received an update report from director Honeycutt informing board members of a number of issues pertaining to school matters.
Item number nine of the twelve bullet points was to let the board know that the $57,280.00 for various maintenance issues at the school didn't quit pan out. Actually there was only $9,000.00 left. See below.
Our Business Manager (Alysa) has completed the budget adjustments. Our money to go into maintenance ended up being around $9,000. This is less than was originally estimated. (Wayne Honeycutt)
For those of us who use real math, that's a matter of $48,280.00 that apparently just went away. I did inquire at the next board meeting about the missing money. The director explained that a mistake had been made in some of the raise calculations. So even though the board voted for the figures on the document apparently it didn't matter that the figures were wrong.
Let's say you were the manager of a convenient store. One day the owner comes in and tells you you came up short $48,280.00 for the week's receipts. You tell the owner it was just a mistake. I bet you're looking for a new job the next day.
I have no idea who made the $48,280.00 mistake or how they made it. But this is suppose to be the best and brightest we have. Any wonder why the school system's in the shape it's in?