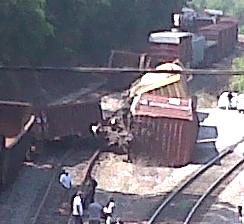 LOUDON (WATE) - A Norfolk Southern train derailed Saturday morning in Loudon County.
According to Loudon County dispatch, the train derailed just before 11:00 a.m. at the intersection of Natalie Boulevard and East Lee Highway in Loudon.
Three box cars derailed. They were all empty.
Authorities said no one was injured in the derailment and nothing leaked from the train.
The wreck remains under investigation. The cars appeared to tip over just after the switch.
The site was cleared Saturday evening.