Every ten years after the new census is completed,
new political lines are drawn to maintain equal populations in local, state and federal representative divisions for election purposes. This year's elections will be the first to highlight those new lines.
On the local level, very little change was needed to balance the populations. Minor changes were required in the 1st, 4th and 7th districts which moved a few hundred voters from one district to the other. On the state level the changes are much more profound for many of us in Loudon County epically in the state house of representatives.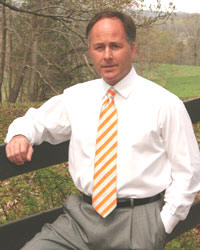 Loudon County is divided into two districts. The 21st which is representative Jimmy Matlock and prior to the new lines, a much smaller portion of the county was included in the 32nd district represented by Julia Hurley. With the change of the boundaries a much larger portion of Loudon County will fall into the 32nd district. In fact a large portion of the local 5th, 2nd, 3rd and all of the 6th districts will now be in the 32nd state district. I think it's around six to seven thousand Loudon County voters will be moved from Mr. Matlock's district to Ms. Hurley's district which is mostly made up of Roane County.
The state has not yet published a detailed electronic map of the new districts but in essence, most of Loudon County north of Hwy. 321 will now be a part of the 32nd district with the exception of down town Lenoir City which has been and will continue to be in the 32nd district. This is where Ms. Hurley lives. Below is a map that's not very detailed but will give you some idea of the new lines.
Both Matlock and Hurley have picked up petitions to seek re-election. So far no one has picked up a petition to challenge Matlock for his seat. However, according the The Roane County News, two individuals from Roane County have picked up petitions to challenge Ms. Hurley.

---
Roane may have local state rep choice

Kent Calfee, a former Roane County commissioner, is seeking the Republican nomination for the 32nd District House of Representatives seat.

He addressed commissioners at their monthly meeting on Monday. "If I'm elected, I'll certainly be in Nashville to work for you all," Calfee said. "If you have some bills that need to be carried down there, I will certainly do that."

Calfee said he served on the commission from 1986-2006. "My job had me traveling so much I just felt like I couldn't serve my constituents anymore," he said. "I retired at the end of December."

The seat is currently held by Lenoir City Republican Julia Hurley. She defeated longtime Democrat representative Dennis Ferguson in the 2010 election. Hurley has said she plans to seek re-election this year.

The Republican primary is Aug. 2.

Calfee isn't the only one to pick up a petition so far. Rockwood resident Allen R. Cole did so earlier this week. He is listed as an independent.