New Greenback school nearing completion
JOSH AULT-6 News Reporter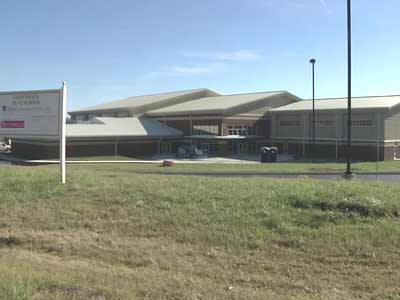 GREENBACK (WATE) - For years, the Loudon County community of Greenback has had serious problems with their school, including many gas leaks, and just this week a problem with the cafeteria.
A Greenback parent sent an email to 6 News letting us know there was a problem with the drains, and that students were having to eat cereal for lunch.
She was upset she was not notified of the problem.
Greenback School principal Mike Casteel says the problems with the drains have now been fixed.
He says the age of the school is the reason the drains were not working properly. The existing school was built in the 1930s.
He wants parents to know in a matter of weeks they will not have to worry about these problems because they will be moving into their new school.
Casteel says they didn't have time this week to warn parents when the cafeteria drains had some issues on Tuesday.
"We are going to make sure we refund lunch monies for that day and take care of that, and hopefully that doesn't happen again," said Casteel.
Casteel says he is confident many of the facility issues they face will be resolved by what is being built next door: the brand new, state-of-the-art, Greenback School.
"This is a really exciting time for Greenback," said Casteel. "I know there is a lot of folks, including me, that are getting ready to move in this new building."
The contractor for the project gave us a sneak peek inside the massive school.
The project is 95 percent done and work crews are putting the finishing touches on the facility.
The new school will include a 1,100-seat gymnasium, an assembly room, a band room and brand new furniture.
"I think it's great," said Greenback resident Lynda Radcliff. "Greenback has needed that for a long time, and it looks fantastic over there."
Casteel says a few weeks ago they were able to have their first faculty meeting in the new school, and teachers have already been assigned their classrooms.
He says they plan to be in the new building when students return from Christmas break.
"The target date is January 7," said Casteel.
The new Greenback School has been under construction for the past two years at a cost of around $22 million.
School leaders were able to build the new Greenback School after residents in the county approved a 20-cent property tax increase.