New Greenback School moves forward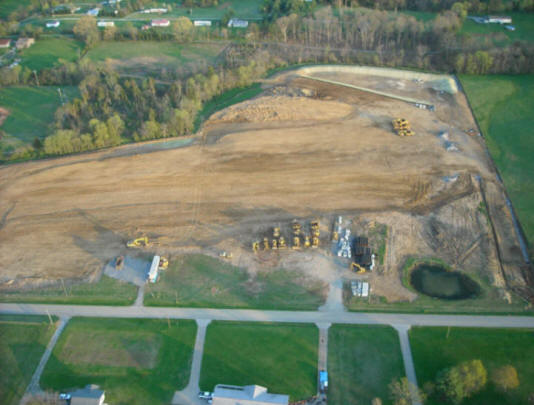 By Matthew Stewart dailytimes.com
After a rainy winter, workers are moving forward on the new Greenback School.
"We're pleased with the work to date," said Loudon County Director of Schools Jason Vance.
"We got off to a slow start with the winter weather, but they're making good progress. I'm hopeful we'll see a lot of good work in the next couple months."
Workers have completed the building pad and plan to start foundation work this week, said Merit Construction President Bruce Bosse. Officials are working with subcontractors to complete the project's timeline that is tracking on schedule for a fall 2013 completion date.
The new Greenback School is 145,300 square feet and located on a 27.9-acre site adjacent to the current school. The Pre-K-12 school has a core capacity of 900 students.
In comparison, the current building is 78,440 square feet and located on a 15.5-acre site. The existing school's basic structure was built in 1939, and additions were completed in 1950, 1960, 1977, 1989, 1998 and 2000.
During the past decade, Greenback School had started to show its age.
Studies declared the current school building unsafe and outdated. However, Loudon County officials couldn't agree on a plan for replacing the building.
In November 2007, the Fire Marshal's Office imposed a fire watch on Greenback School. For the next six months, firefighters had to patrol the building daily.
Officials later installed a new heating, ventilating and air conditioning (HVAC) unit, which put Greenback School back in good standing with the state.
However, gas leaks and other safety concerns persisted over the next several years.
In January 2010, school board members voted in an emergency session to indefinitely close Greenback School until mechanical engineers could inspect the school's gas lines and address any issues. The school was closed for nearly one week.
In June 2011, the Loudon County Commission approved a 20-cent property tax increase to support a school building program. The tax rate increased from $1.58 to $1.78 per $100 assessed value.
Greenback School is part of a $43 million building program, which includes a new middle school and Philadelphia Elementary School's cafeteria renovations. Philadelphia Elementary's renovation's is tracking on schedule for an August completion date, and the new middle school is on schedule for a fall 2013 completion date.
'Exceptional educational opportunity'
"We're very excited about the new Greenback School," Vance said. "It's an exceptional educational opportunity for the children and community."
The school will feature:
• 20 elementary classrooms;
• Eight middle school classrooms and one science lab;
• Eight high school classrooms and one science lab;
• Three computer labs;
• Three vocational shops and classrooms;
• One room for art, band and music;
• Gym with 1,022-person seating capacity;
• 6,834-square-foot dining room;
• 4,133 square feet of multipurpose assembly space;
• 2,963-square-foot media center;
• One new athletic practice field, which will be used in addition to existing fields.
The school also features adequate space for future growth, Vance said.
"It's a phenomenal building that will serve the community for many years to come."