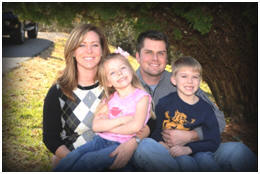 My name is Jason Simon. I currently live at 2282 Misty Ridge Drive. I am married to my beautiful wife Heather Jones Simon and we are blessed to have two wonderful children. Braden and Brooke are both elementary age children attending schools in our community.
I have been a resident of Lenoir City my entire life. I graduated from Lenoir City High School and attended Roane State and Cleveland State Community College. I am a member of Fellowship Baptist Church in Lenoir City.

Outside of work and family, I am an avid outdoorsman. I have a passion for spending time outdoors and love sharing those experiences with my children.

At the end of the day, family time is a priority. Time spent with my wife and children is what builds family memories for years to come and that is what is important to me.

Why I am Running…

Now that I am the parent of two elementary school age children, it puts things into perspective on how important decisions that our leaders make can affect our children's futures as they prepare for the next level of their education.

I want to be a part of the decisions made for the children in our school system because their success and education should be the single most important goal. In order to provide our children with the best education we have to take care of our teachers and administrators and provide them with the best resources available. Teachers are a significant part of the equation and if I am elected I will make sure that the teachers have my full attention and support. Please allow me the honor of becoming YOUR school board representative.
Public Service/Qualifications
I am the Assistant Director of the Lenoir City Parks and Recreation Department. I have 13 years experience in local government and civil service. Over the years I have had a close working relationship with Mayors, City Councilmen, School Board members, Lenoir City Visitors Bureau and the Chamber of Commerce.

My job has afforded me the opportunity to be involved with local children and families throughout our community.
I am confident in my abilities to handle personal matters and issues as they arise and to keep my focus on what is right and fair for everyone involved.
My responsibilities as the Assistant Director include:
Director of Lenoir City Youth Sports such as Baseball, Softball and Basketball
Director of Lenoir City Pool/Aquatic
Special Events Coordinator
Programs Coordinator (Maintaining existing programs as well as implementing new ones)
Liaison for the Lenoir City Events Council
Liaison for the Lenoir City Beautification Board
Managing City Budgets for 13 years
A constructive and encouraging leader to multiple employee
With the experience that I have listed, I feel as if I am qualified to be OUR districts School Board Representative.

I hope that I can depend on you to support and vote for me in the upcoming election.