Morning Pointe celebrates five years
Tammy Cheek farragutpress.com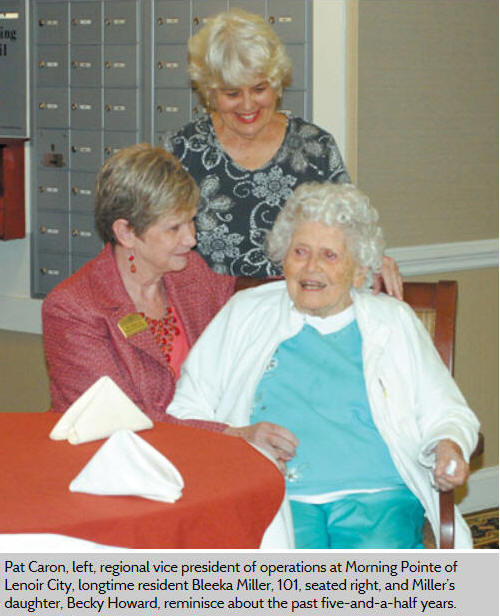 As Morning Pointe of Lenoir City celebrates five years in September, its staff reflects on its accomplishments during those years.

"We've had some positive changes in the past five-and-a-half years," Pat Caron, regional vice president of operations for Morning Pointe that serves the Smoky and Cumberland regions in the state, said. "We are excited about the direction we are now going."

The assisted living facility, 198 Morning Pointe Drive, is owned and operated by Independent Healthcare Properties of Ooltewah and owned and operated by Greg A. Vital, president and CEO, and J. Franklin Farrow, chief operating officer.

Independent Healthcare Pro-perties also owns and operates The LANTERN: Alzheimers Center of Excellence, located next door to Morning Pointe of Lenoir City.
"The need for memory care services continued to grow, and in May 2012, The Lantern, Alzheimers' Center of Excellence, opened its doors," Caron said, adding that facility has been in operation for two years.

In the fall, Morning Pointe of Lenoir City developed, created and planted Daffodil Hill, she said.

"As you drive up to Morning Pointe, we planted 1,000 daffodils," Caron said, adding the hill is an ongoing project.

"We partnered with Lenoir City Garden Club to do that," she added.

Also, Morning Pointe participates in memory walks and other similar events, Caron said.

"There's just an exceptional spirit of caring that gets transferred to residents and families," she added.

The facility celebrated its anniversary with an open house from 4 to 7 p.m., Tuesday, Sept. 9, at the Morning Pointe facility

"It [was] a big anniversary party," Jenna Massa, community relations director for Morning Pointe, said. "We expect[ed] a big crowd."

The open house coincides with National Assisted Living Week, Sept. 8 through Sept. 12. Plans include music, food and fellowship.

Vital and Farrow are scheduled to attend.

While Morning Pointe of Lenoir City actually has been open for five-and-a-half years, Caron said they chose to celebrate five years.

While the facility cares for many residents past the age of 90, staff turns to Bleeka Miller, 101, who has been a resident of Morning Pointe since it first opened, when looking back on the five-and-a-half year.

"She was the first one," Massa said.

"I dubbed her Queen Bleeka," Caron said.

"I don't own a thing in this world except what's in this room, and that's how I want it," Miller said. "I feel like when I go to bed at night I got everything in order, as far as I know.

"God can take care of the rest of it."

"We've all learned a lot from Bleeka," Caron said, adding Miller still motivates and inspires many people.

For more information about Morning Pointe of Lenoir City, call 865-988-7373 or go to lenoircrd@morningpointe.com.