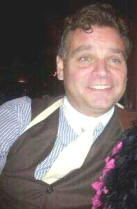 LENOIR CITY (WATE) - The Loudon County Sheriff's Office says missing man Paul Coker was found dead over the weekend.
Deputies say Coker, 44, last made contact with his family in the evening hours of February 13, telling his family he was thinking about going to Cotton Eye Joe's in Knoxville.
He was found dead in his car around 6 p.m. Saturday evening.
The car was found in a garage at a local golf course. (Cedar Hills)
Officials are conducting an autopsy, but they do not yet know a cause of death. They say there are no obvious signs of foul play.