Just on the heels of the high command of Lenoir City breaking ground on their new $25,000,000.00 LCUB facility, local officials received updated information from the realtor for the Yale property that the price has been reduced by a million dollars.
I wanted you and your commissioners to see the new sales package for the Yale property in Lenoir City. This new package shows the revised or new price of the property as being $2,367,000 which is $10.64/sq.ft. for the 222,367 sq. ft. of buildings and 17.3 acres. This is a million dollars or 30% reduction in the former price of $3,400,000.
Of course it's all water under the bridge now or should we say twenty million dollars under the bridge. Without doubt, the most common since decision the city could have made would have been to buy the Yale property, which coincidentally is right beside the existing LCUB property. They could have bought the Yale property and spent ten million dollars on it and still spent half as much as they will spend on the new Taj Mahal.
I guess when you're spending other people's money, you just don't worry about the costs. Some might call it fiscal arrogance.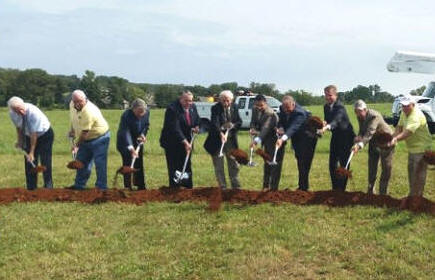 The high command with their $300 commemorative shovels