Mini horses rescued in West Tennessee rehabbing in Loudon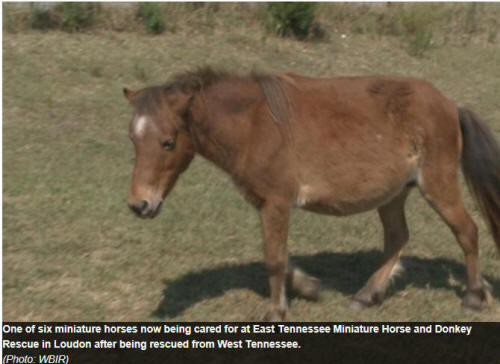 LOUDON COUNTY - Six miniature horses are now being cared for in Loudon after they were rescued from a neglectful owner in West Tennessee.
The horses are part of a group of 30 horses and ponies that were seized in Jackson.
Angela Devine of East Tennessee Miniature Horse and Donkey Rescue said when her organization heard about the case involving animal cruelty, they contacted the local rescue organization in West Tennessee and offered to help take care of the animals.
Volunteers drove five hours each way to pick up six miniature horses and bring them to Loudon.
"We're finding out now that they're here that some of them are going to need extensive medical care," Devine told WBIR 10News on Tuesday.
She said they are focusing on the horses' nutrition and socialization so they will be ready to go to new homes.
"Our main focus is to get them healthy, get them into really good foster homes and get them adopted. That is our goal is just to just give them the best chance at life from here on out," Devine said.
You can find out more about East Tennessee Miniature Horse and Donkey Rescue on their website and Facebook page.