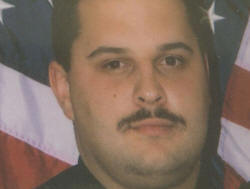 Loudon County, Tenn. (WVLT)
Hundreds turned out to celebrate the memory of fallen Loudon County Sheriff's Deputy Jason Scott during a service Wednesday morning at the Loudon County Justice Center.
He was shot three times in 2004 after responding to a domestic violence call.
His mom, Patty Hamil explained, "It's everyday I remember little things about Jason. How he loved life. He loved everybody. He always wanted to joke. Especially with his sister. We just appreciate everyone coming out in his honor."
The standards he lived by, his friends and family say are his legacy to them.
Sister, Jamie Brown said, "There's a big part missing, but we love him a lot. I am just glad we can get together and remember him."
When the call came in 10 years ago that he had been shot, his entire family rushed to UT Medical Center.
"God was ready for Jason, this was his time. I would love to have him longer, but God had a plan," said Hamil.
His memory lives on through fundraisers to help kids struggling with a serious illness