The McCarrolls
On fiddle and guitar, father and daughter make family music

By Morgan Simmons knoxnews.com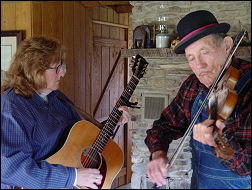 For Tom and Tammie McCarroll-Burroughs, making music comes as naturally as breathing.

In 1932, when Tom was 4 years old, his grandmother taught him to play "Bile Them Cabbages Down." It was his first tune, and he learned it in bed because his grandmother was afraid heíd drop the fiddle.

Tammie, Tomís daughter, started picking the mandolin at the age of 4 and, by age 12, was hosting her own live music show on radio station WLIL, in Lenoir City.

When Tom and Tammie perform songs by the Carter Family, Tom picks a 1915 Washburn guitar he bought at a yard sale for $1.

Otherwise, he plays the fiddle while his daughter backs him up on guitar.

"I can fiddle, but it makes the dogs howl, so I stick with guitar," Tammie said.

"McCarrolls can play with just about anybody, but McCarrolls play best with other McCarrolls," she added.

Tomís father, James "Uncle Jimmy" McCarroll, played fiddle for the Roane County Ramblers, a highly acclaimed string band that recorded in the late 1920ís. In addition to his superb fiddling, Jimmy McCarroll also composed several tunes that have become classics in the old-time canon.

Tom and Tammie include at least two of Jimmy McCarrollís fiddle tunes, "Hometown Blues" and "Southern No. 111," in their standard set list.

Jimmy McCarroll played music right up until he died in 1985 at the age of 93. Tom inherited his fatherís musical ability, as did his younger brother Charles, who also plays fiddle, but in a smoother, more modern style than Tom.

From the time he was a young boy, Tom accompanied his father to fiddle contests and music shows. In 1936, at the National Fiddle Convention in Cincinnati, Ohio, he won junior champion, while his father placed first overall.

During much of the 1940ís Tom and Jimmy McCarroll played for the Saturday night square dances in Oak Ridge, at the Number 1 Recreation Hall, close to where the K-25 plant is now located.

Between 1948 and 1959 Tom laid down the fiddle and became a full time farmer.

"I was burned out from playing school houses and theaters for no money," he said. "Every time I heard a fiddle, it burdened me. I got disgusted and quit for 10 years."

By the time Tammie was born in 1959, Tom was playing again. He and his wife, Polly, who passed away in 1989, sang together in a gospel quartet, and when they performed at churches, and revivals, they took Tammie along.

"When I got tired and sleepy, mom just put a blanket and a pillow down in the guitar case and I slept in the guitar case while they sand and played," Tammie said. "She made sure nobody closed me up and carried me off."
More songs
Listen to songs by The McCarrolls: