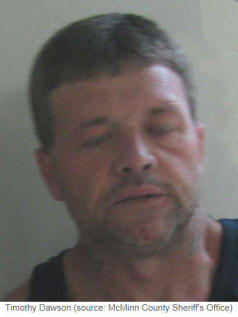 LOUDON (WATE) - Loudon County officials arrested a man suspected of theft in four East Tennessee counties after a nearly two month investigation that resulted in the recovery of $150,000 worth of stolen items.
Sheriff Tim Guider says the case began on April 6 with a Triton bass boat that was taken from a home on Erie Road. The boat also contained fishing equipment and life jackets.
A John Deere farm tractor was then taken on April 8 from a home on Blue Springs Road, the same area where the boat was taken.
Loudon County investigators then followed leads and conducted surveillance of the suspect's home.
Loudon County officers, along with the McMinn County Sheriff's Department and the Sweetwater Police Department searched the property on County Road 293 in McMinn County, locating both the boat and tractor, along with two four-wheelers that had been reported stolen in Monroe County.
The suspect, Tim Dawson, 42, was arrested at a Sweetwater motel on May 14.
Upon additional investigation, Dawson was connected to additional thefts in McMinn and Bradley County.
Dawson is being charged with several counts of felony theft in Loudon County. Additional charges from the other counties are pending.