Man hikes AT to spread Colon Cancer awareness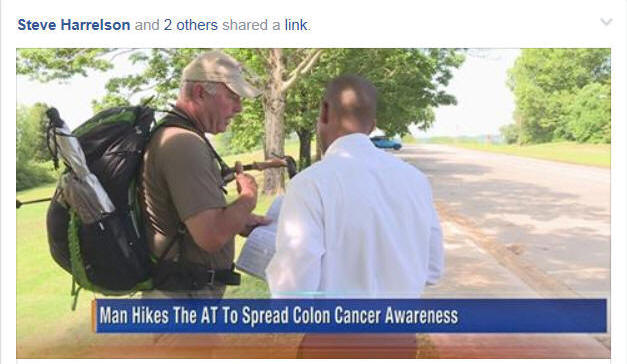 LOUDON COUNTY, Tenn. (WVLT)-- Every Wednesday Steve Millsaps mows the lawn at Loudon County's government building, but for the next six months, he'll be skipping work to hike nearly three thousand miles across the country.
"My thought was okay, am I working right up until the time of my death?" Millsaps asked himself.
Millsaps went to the doctor for a routine physical last July, and that's the moment his world was turned upside down. He was diagnosed with stage 1 Colon Cancer.
"Cancer doesn't care what you do for a living, how much money you have, how many children you have, it could care less," said Millsaps.
A month later, Millsaps would have about 10 inches of his colon removed, sending his cancer into remission. It would also send him on a life-long quest to cross one thing off his bucket list.
"That's when this whole thing came up about hiking the Appalachian Trail," said Millsaps.
Millsaps will wade through waters, heat and extremely rough terrain, as he backpacks across America to raise awareness about Colon Cancer.
"I shed tears," said Millsaps. "I don't mind saying because I said okay here's another chance in a lot of ways," said Millsaps.
Millsaps took his second chance and ran with it. He'll begin his journey on the day he normally uses to cut grass.
"I'm doing this to hopefully bring awareness to others so they might have the same result that I had," said Millsaps.