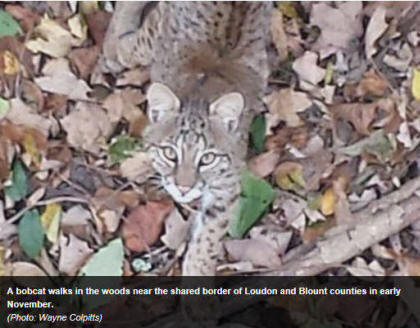 wbir.com-An East Tennessee man is sharing videos and photos of his close encounter with a bobcat.
Wayne Colpitts spotted the animal last week while bow hunting outside Greenback, near the shared border of Blount and Loudon counties. He was perched in a tree when he saw the bobcat approaching.
"There was a lot of squirrels in front of me, and he was obviously hunting them," Colpitts recalled. "When he got to the base of the tree, of course, I called to him, and he looked up at me and didn't really know what I was."
In the video, the bobcat stares up at Colpitts, where the man was capturing video of the moment on his cell phone.
Colpitts took up photography a year ago but didn't have any of his gear with him on that trip.
"Here I've got all that money in cameras and I've got my cell phone out taking pictures," Colpitts joked, "so that's not what you really want a good picture with, but that's alright. (The pictures and videos) came out alright."
Once the cat became aware of Colpitts' presence, it slowly sneaked away.
The Tennessee Wildlife Resources Agency says bobcats are "very secretive, solitary and seldom seen by humans."
Their mating season, however, starts next month, and bobcat hunting season in Tennessee begins November 1.
"I don't think there's any shortage of them, I just think a lot of people don't get out there and, you know, spend the time and see them," Colpitts said.
This hunter and photographer said he always masks his scent when going into the woods. Perhaps that's how he has been able to capture so many stunning images throughout East Tennessee. One of his favorite locations for snapping photos is Cades Cove in the Great Smoky Mountains National Park.
The one trophy he's missing is a high-resolution image of a bobcat.
"I'm sure I'll see these cats again," Colpitts said. "If we get any snow, it'll be easier to find where their den is, and then I can set up and get good pictures."