Fore Note: Tyler Overstreet is an independent candidate running for State Representative for the 32nd District currently held by Kent Calfee. The 32nd House District includes a significant portion of Loudon County.

---
Man claims assault by state House candidate: Video shows Overstreet with weapon
Damon Lawrence-roanecounty.com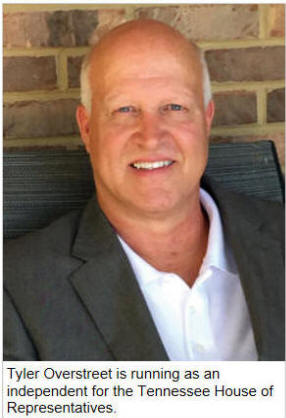 Tyler Overstreet, a candidate for state representative, was accused of barging into a home with his girlfriend this past summer and striking a man with a piece of stove wire.
On a video clip obtained by Roane County News Overstreet can be seen brandishing the wire and heard calling someone a "boy."
"The guy Tyler ran into my friend's house and started yelling and screaming, then he hit me and a friend with a metal pole," Ishmael Patterson said in a written statement about the incident. "My wrist is broken."
Neither Overstreet or his girlfriend, Wende Jones, were arrested.
Patterson initially agreed to waive prosecution, but changed his mind, according to the incident report. Roane County Sheriff's Office Detective John Mayes said he tried to follow-up with Patterson, but couldn't reach him.
"I called Patterson twice the following day," Mayes wrote in his report. "I did leave message for him as well. I continued to call him for the next week and Patterson did not answer, respond to voicemails or call this detective back. This case is being closed due to lack of prosecution."
The other alleged victims, a 15-year-old male, and a 54-year-old woman name Angela Ann Guettner, signed waivers of prosecution.
Overstreet is running as an Independent in State House District 32 against Republican Kent Calfee. The incident happened on July 13, which was more than three months after Overstreet qualified to run for the office.
Wendell Jackson said the alleged 15-year-old victim is his stepson. He said he doesn't know why his stepson decided not to prosecute.
"He's a good kid," Jackson said. "He didn't even have nothing to do with it. They smacked him in the head with it and the woman shook the bat in his face."
Sheriff's Office Deputies Kyle Canup and Greg Sims responded to the incident at 346 Lawson Mill Road, Kingston. They reported seeing Overstreet and Jones leaving in their vehicles when they arrived. Sims made contact with Jones and Canup spoke with Overstreet.
"I (Canup) pulled in behind a black Nissan pickup truck and activated my emergency lights," the report said. "The driver of this vehicle didn't initially stop. At this time I also activated my sirens in attempt to stop the subject. The driver declined to stop and pulled into 430 Shady Lane, where I made contact with the male subject, later identified as Tyler Overstreet."
Canup questioned Overstreet about what happened at the Lawson Mill Road residence.
"When asked why Ms. Jones went inside, Mr. Overstreet replied, 'She's pissed,'" the report said.
Canup said Overstreet told him he went inside the residence to make sure Jones was OK.
"I asked Mr. Overstreet if an assault had occurred, and he replied, 'no,' and that neither him nor Ms. Jones assaulted anyone," the report said. "Mr. Overstreet stated he hit the couch, but he didn't hit anyone."
Canup said he later spoke with Jones, who told him the day before the incident a Ford Expedition drove up Shady Lane screaming obscenities while she and others were on the front porch.
"Ms. Jones stated that on this date (July 13), she was pulling into her driveway and the same vehicle drove by again screaming obscenities out the window and that they drove by at least two more times before she made it to her porch," the report said.
Guettner's address was listed in reports as 346 Lawson Mill Road. Canup said Jones told him she went there because she believed a male teenager who was harassing her son was present at the residence.
"Ms. Jones stated she did have a baseball bat with her and she asked the individuals who was tormenting her son," the report said. "Ms. Jones stated that an African-American male was sitting on the couch and another male subject came out of the bedroom and stated he was going to mess her up. Ms. Jones stated they began screaming and cursing at her, but she never hit anyone with the bat."
Patterson, 23, contends in the statement he gave that he was struck by Overstreet.
"Mr. Patterson stated he started recording with his phone when his friend was struck in the head," the report said. "He stated that the male looked at him and asked if he was recording, and when he said yes, the male tried to strike him. He stated that he put his hands up to guard his head and was struck in the wrist."
Overstreet told Canup the object Patterson described as a metal pole was stove wire.
"This item was wrapped in a black plastic casing and has red electrical tape on both ends," the report said.
Phone messages left for Jones were not returned by press time Friday. Patterson, who has an Alcoa address, was in custody at the Blount County Jail on Friday on charges of domestic violence and violation of probation.
Overstreet was reached by phone on Friday and declined multiple request for comment. He stopped by the Roane County News later on Friday and dropped off a written statement, in which he claimed he's being extorted because of politics.
"I have been forced to hire an attorney and on my attorney's advice, I will have no further comment on this matter," the statement said.
Canup watched a short video of the July 13 incident, and described it in his report.
"In this video, I observed a male juvenile sitting down on the couch and could see Ms. Jones standing over him with a baseball bat in her hand," the report said. "I also observed Mr. Overstreet in the background of this video holding the black wire. I observed Mr. Overstreet start toward Mr. Patterson, the male subject videoing the incident. The video went out of frame, but you could hear what appeared to be a striking noise."