Michael Thomason The Monroe County Advocate
The Monroe County Sheriff's Office is investigating its second murder in less than two weeks after a man shot a woman in his house on Old Highway 68 Tuesday night.

Officers responded to the call just after 11 p.m. and found Julia Ann Kinsey, 43, Lenoir City, had been shot in the back of the head.
Michael Dewey Ellington, 45, has been charged with first-degree murder and is being held on $500,000 bond.
"He's claiming self defense in the killing," Monroe County Sheriff's Detective Travis Jones said. "After he shot the victim, he went to a nearby family member's house and told them what had happened and they immediately called authorities."
Jones didn't elaborate on why Ellington was defending himself, but said there was no truth to the rumor her throat had also been cut. Jones also said they were considered boyfriend and girlfriend though Kinsey was married.

Jones warrant on Ellington states Kinsey was shot in the back of the head with a 12-gauge shogun as she lay on the floor. The weapon and a spent cartridge were found on the floor.

An autopsy was conducted on the victim at UT hospital Wednesday, but the results have not been released.

Jones said Ellington has no prior arrests and no known history of trouble.
This is the second killing in Monroe County this year. A Madisonville woman was shot and her body found in McMinn County on March 4.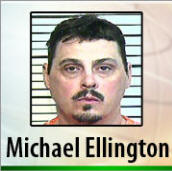 SWEETWATER (WATE) -- A man has been arrested and charged with first degree murder for a woman's fatal shooting in Sweetwater Tuesday night.
The suspect is Michael Dewey Ellington.
The victim was Julia Ann Kinsey, 43, of Lenoir City.
Monroe County sheriff's officers found Kinsey dead after responding to a call about the shooting at 11:06 p.m. Tuesday at 1635 Old Highway 68.
Investigators say a 12 gauge shotgun was recovered at the scene and Ellington was arrested later.
An autopsy was done on Kinsey at UT Medical Center on Wednesday, but the results haven't been released yet.
Ellington's bond has been set at $500,000.