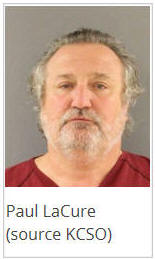 KNOXVILLE (WATE) – A Loudon man was arrested Monday after deputies say he crashed his car into a West Knox County house, while under the influence, and took off.
Paul LaCure, 56, is charged with DUI, impaired consent notice, leaving the scene of an accident and reckless endangerment.
Deputies say around 1:20 a.m. Monday, LaCure drove his SUV into a home on Dolph Drive. Homeowner Dustin Cradic said he was inside when he heard a loud bang come from his son's room. He then saw LaCure's SUV crashed into the side of the house where his son's room his and pushed the boy's bed across the room while he was still asleep in it.
LaCure, according to deputies, then backed out and was seen heading toward Byington Beaver Ridge Road. The toddler was not hurt.
Around 15 minutes later. a Knox County deputy spotted LaCure's black GMC Yukon on Lovell Road, driving below the speed limit and crossing the lane divider several times. The deputy stopped LaCure and noticed he had a strong smell of alcohol and was confused. The SUV had extensive front end damage, but LaCure said he hit a ditch. He refused to comply with the implied consent law, so deputies got a search warrant to draw blood.
He is currently being held on $4,500 bond.