DON DARE 6 On Your Side Consumer Investigator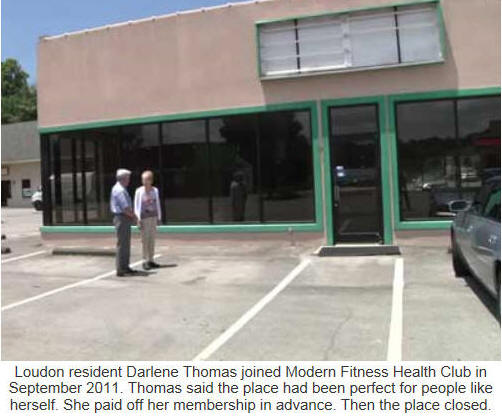 LOUDON (WATE) - If you are among the millions of people who have joined a health club, you know that getting in shape can really make your bank account unhealthy. There are a lot of "gotcha" clauses in a gym contract.
Loudon resident Darlene Thomas joined Modern Fitness Health Club in September 2011.
"After they were opened a few months, they closed. I came to exercise [and] the doors were closed. Everything was locked up," she said.
Thomas said the place had been perfect for people like herself. She paid off her membership in advance. Then the place closed.
"You know I just thought I paid two years up front, and I'm just out. I thought, 'Oh, well that's life.'"
However, her club membership was transferred to Modern Health Club in Madisonville in June 2012, which is miles away from her home in Loudon.
"[It] would take me maybe 30 to 40 miles round trip as compared to just five minutes to come here," she said, standing in front of the now-closed health club.
Thomas visited the club in Madisonville, didn't like it and didn't go back. She never got a contract there either. Because the gym in Loudon had closed, she forgot about her contract with that club but in late 2013, she started receiving a $19 a month charge to her credit card.
"I asked them what that charge was for. They said, 'For the fitness club that you joined two years ago.' I said I don't understand. I don't even go there," Thomas said.
Remember, she never received a contract from Modern Health Club.
"I went to Madisonville and asked for a copy of my contract. He said, 'I don't have your copy of your contract. I don't do contracts. I do month to month.'"
So, Thomas disputed the charges through her credit card company. She won and received three payments back. Nevertheless, the billing company, Covenant Business Solutions, sent her to collections.
"They sent me a letter saying that I was 61 days past due paying my membership. I called and said, 'I sent a letter of cancellation like you told me to do.' They said, 'Because you did that dispute with your credit card company, that automatically renewed your membership,'" said Thomas. "I said that's insane. I never heard anything like that."
In Madisonville, club owner Al Whelband said he would contact the billing agency for Thomas. Whelband said he's called Covenant Business Solutions for other customers with similar complaints, he's not optimistic about the outcome for Thomas.
"They are the worst people in the world to talk to. They are just completely ignorant," he said.
At the Better Business Bureau, we discovered Covenant Business Solutions has an "F" rating. The BBB report says it's received nearly 40 complaints from people around the country who have canceled their membership with various gyms according to company terms, but the billing company has continued to charge customer accounts.
"Never in my life have I had any problems like this," said Thomas.
The collection agency is now telling Thomas she owes $101 dollars for her membership to Modern Health Club, even though Whelband said he offers no contracts and he doesn't understand why the billing company is after Thomas.
She's completely fed up with the people going after her.
Many gym contracts are not consumer friendly, especially if you have a multiple year deal. Most clubs are very good at signing you up, but are terrible at processing cancellation paperwork.
If you have a multi-year contract and want to cancel at the end of the term, read the cancellation clause carefully. If you pay month-to-month and decide you don't want to go back, under Tennessee rules you may still have to give notice that you are canceling.
Read your contract carefully.
Thomas and the billing company are in negotiations to iron out their dispute.