Loudon traffic stop yields potent pot, guns, cash

LENOIR CITY - A Loudon County traffic stop this week resulted in the seizure of nearly 8 pounds of hydroponically grown marijuana, more than $23,000 in cash and several weapons.
Loudon County Sheriff Tim Guider announced in a press release that officers on Wednesday stopped a 2006 Mazda pickup truck on a traffic violation. The truck was driven by Christopher Adam Murrill, 22, of the Philadelphia area.
When another officer with police dog Diego arrived, the canine scented on the truck, indicating the presence of drugs, Guider said.
A search of the truck yielded about 2 ounces of hydroponic pot in a glass jar in a duffel bag located on the front seat, Guider said. Officers also found $22,000 in cash in a plastic bag in the duffel bag and another $1,205 in cash on Murrill.
The search also uncovered a .45-caliber semiautomatic weapon in the truck, the sheriff said.
A follow-up investigation by the Loudon County Sheriff's Office narcotics unit included a search of Murrill's residence in the lower level of a home on Donaldson Road. That search yielded 7.62 pounds of hydroponic pot, Guider said.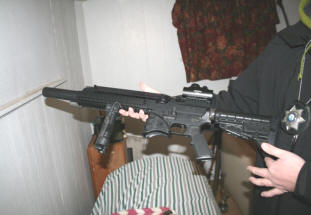 Officers also found digital scales, plastic bags, rolling papers, a rolling machine tainted with marijuana residue and two more weapons, according to authorities. The guns included a .380-caliber semiautomatic handgun and a 7.7 x 28mm rifle, both of which were found near the pot, Guider said.
Officers seized the pickup truck, the drugs, the money and the weapons.
Murrill faces two charges of possessing marijuana for resale, two counts of possessing a firearm in the commission of a felony, possessing drug paraphernalia and maintaining a dwelling where marijuana narcotics are processed or sold.
Hydroponic marijuana is grown without soil and is generally considered to be more potent and more carefully manicured than pot grown using more traditional methods.
Authorities said Murrill had a friend in California who was mailing the marijuana to him.