Former Meth Lab Home For Sale -- Just Don't Ask to Look Inside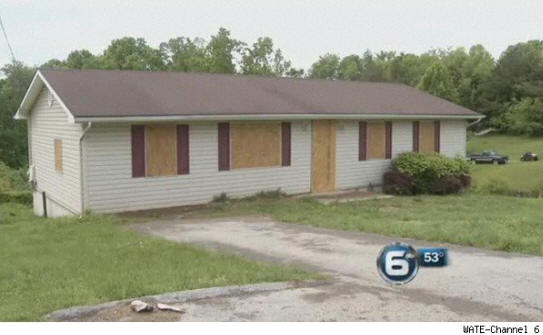 foxnews.com-The newly listed home at 2380 Crock Road in Loudon, Tenn., seems like a steal: Four bedrooms, two bathrooms and selling for only $8,500. But maybe not, if you consider that the home is a former meth lab.

In 2010, three men were arrested and sent to prison for using the house to produce methamphetamine. The men left the home a "hazardous environment," authorities told Knoxville TV station WATE-Channel 6, and it was quarantined by the Loudon County narcotics team.

"We categorized this property as Level 3 of contamination. Level 3 out of 4," Lt. Paul Curtis, narcotics director at the Loudon County Sheriff's Office, told WATE.

Unfortunately the Crock Road home is hardly a unique case: In 2012, Jonathan and Beth Hankins purchased a $36,000 "fixer upper" in Klamath Falls, Ore. that also turned out to be a former meth lab. After the family had already moved in, a test kit showed that the home carried meth residue at about 80 times the state's legal limit for acceptable levels -- after it had been cleaned. In a similar case in Suquamish, Wash., John and Jessie Bates discovered that the home they'd bought was completely saturated with toxic chemicals used for making meth and was "not fit" to live in.

According to Scientific American, the chemicals used in meth production are so highly toxic that they permeate "every inch of the room where the meth was cooked and beyond." According to experts, a home's carpet, walls, furniture and even air become toxic, and ingesting some the chemicals might cause "immediate death." (Serious but non-fatal effects on the inhabitants of meth homes can also include migraines, nosebleeds, mouth sores and even cancer.)

It's no surprise then, that the Crock Road home is being sold "interior sight unseen" -- meaning that potential buyers are prohibited from going inside the home prior to its sale. But according to Lt. Curtis, this practice is unconventional, particularly as Tennessee state law prohibits the sale of any property to the public without a proper cleaning and inspection.

Despite that, WATE reports that the home might have been sold as early as yesterday. (The property is also currently showing as "sold" on Realtor.com). If indeed the home was sold, the new owners --if they move in -- would join the estimated "millions" of Americans living in properties that were former meth labs, according to CNN Money.

---
Loudon meth house listed for sale
MONA NAIR-6 News Reporter
LOUDON (WATE) – A Loudon house once used for making meth was put on the market recently.
But is it, or any meth house, a home you'd want to buy?
In theory it would seem like the house is one heck of a deal. It has four bedrooms, two baths, and is listed for $8,500.
The catch is you have to buy it "interior sight unseen."
The occupants were busted in 2010 for using the house to make meth. Three men were sent to prison for making the illegal drug. They left behind a hazardous environment in the home.
"We categorized this property as level three of contamination. Level three out of four, meaning there was quite a bit of material consistent with making meth in the house," explained Lt. Paul Curtis, narcotics director at the Loudon County Sheriff's Office.
The house was quarantined by the Loudon County Narcotics Team. Being inside a contaminated home like this could cause headaches, dizziness, vomiting, and even cancer.
Employees of the realty company listing the foreclosed property did not want to do an interview about it, so we talked to area realtor Traci Kollock about these situations.
"They have to be cleaned and inspected by professionals. There are people who go and just clean these houses," explained Kollock, with Smoky Mountain Realty. "I can't imagine why someone would buy a house they haven't been in to begin with."
Lt. Curtis agrees it is unconventional to sell a home without allowing anyone to see the inside.
According to Tennessee law, without a cleaning and inspection, "it is an offense for any person to offer that property to the public."
So if the home was cleaned and inspected, why list it as sight unseen?
"It is interesting, it also raises some other questions and creates some work for my group. I need to look into that and need to see exactly what has transpired as far as them listing the property," Lt. Curtis said.
Despite that, we're told someone bought the property on Monday because of its low price.
We don't know who that person is. The place is now boarded up.