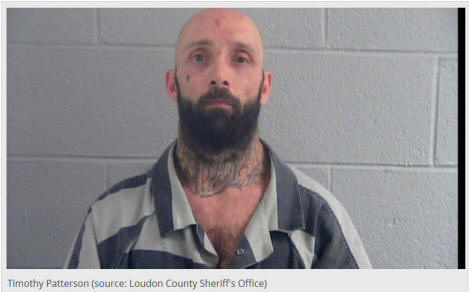 LOUDON (WATE) – A Loudon County man has now been arrested and charged with first degree murder after a deadly house fire last month.
Timothy Michael Patterson, 37, is charged with two counts of first degree murder, arson and felony theft. He is charged with two counts of murder because the Loudon County grand jury said two of the felonies he's accused of resulted in death.
Crews were called to a house fire at 17735 Vonore Road on March 9 for a house fire. There, they found the body of Richard Todd Dirksen, 60, who lived alone. Sheriff's department and arson investigators say it was apparent arson was involved. Dirksen's truck, which was missing, was found burned near the McMinn/Monroe county line.
Previous story: Man dies in Loudon County house fire
Investigators talked to neighbors, one of which was Patterson, who gave statements that led investigators to believe he was a suspect. He then gave more statements that caused investigators to believe he was involved with Dirksen's death, arson, theft from Dirksen's home and the theft and arson of Dirksen's vehicle.
The grand jury indicted Patterson on April 11. He was already being held in the county jail on charged of violation of community corrections and failure to appear. His current bond is over $300,000.