LOUDON (WATE) - A Loudon man was arrested Tuesday after drugs and a cache of weapons were found in his home.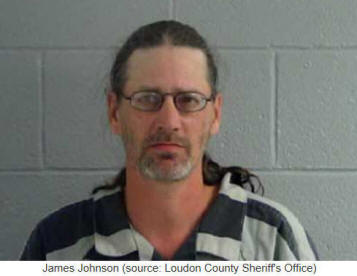 District Attorney General Russell Johnson says the 9th Judicial Task Force and the Loudon Police Department executed Tuesday a search warrant at the home of James Johnson after an investigation into the illegal sale of prescription drugs.
During the investigation, officers found Johnson in the backyard of the home armed with a handgun, which was holstered at his side, and another small gun in his vest pocket. Johnson does have a handgun carry permit.
A search of Johnson's home revealed a cache of weapons including handguns, shotguns and assault rifles. Three ounces of a substance believed to be marijuana and numerous pills including oxycodone and morphine were also found.
Several of the weapons are believed to be illegal class III weapons, or weapons that can fire more than one cartridge per trigger pull. These are commonly referred to as machine guns or automatic weapons. These guns must be registered with the federal government and approved before owning or possessing.
Officers also found a registered suppressor or silencer, which is legal as long as the person possessing it is the person to whom it is registered. In this case, the silencer was not registered to Johnson, and was found to be stolen from Townsend several years ago.
Johnson was arrested and charged with sale and delivery of schedule II drugs, possession of schedule II drugs for resale. Both charges were enhanced because Johnson was armed at the time. The charges were also enhanced because Johnson lives within 1,000 feet of a daycare, which is a protected zone in the state of Tennessee.
Federal officials were notified about the weapons and may press charges related to those.
The 9th District Attorney General's Office is prosecuting the case and is looking for other possible suspects and possible additional charges for Johnson.