Loudon High girls soccer team buys protective headgear after 4 concussions
CAMERON TAYLOR-
6 News Reporter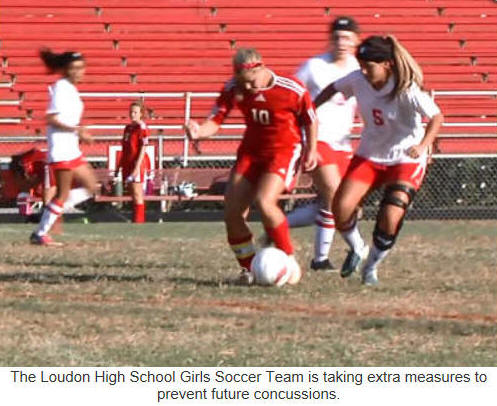 LOUDON (WATE) - The Loudon High School Girls Soccer Team is taking extra measures to prevent future concussions. They decided to take action after four concussions occurred on the team in less than two months.
6 News spoke with 16-year-old Laurel Neuzil who suffered her first concussion about a month ago. Neuzil had been playing soccer for 12 years and had taken some hard hits to the head before, but not this severe.
"I just kind of started feeling pressure in my head and I was like 'okay, this doesn't feel right.' I just asked Sam to take me out and then at that point, I did not feel myself," said Neuzil.
Their head coach knew something had to be done so the team bought 31 protective headgear pieces for a total of $800.
"At first it wasn't a very popular idea, you know, the girls don't really want to put the head gear on but as they saw the concussion stack up on the team, they thought 'Well, we should probably give this a shot,'" said Samuel Harrison, Loudon
The head gear is mainly made out of foam and the team already put the new equipment to use during Thursday's district game against Sequoyah High School.
"I feel more protected just because it's there. It's not going to prevent a concussion entirely but it prevents it somewhat," said Jessica Belcher, a Loudon High soccer player.
Neuzil had the most recent concussion on the team and said her injury couldn't keep her off the field.
"It's just the drive that I've had for the sport. I've played it for a while and it's just something that I really love," Neuzil said.
Coach Harrison told 6 News that there were no concussions on Loudon High School's side during the game against Sequoyah High School. They're hoping that the new equipment along with proper training had a role in that.
The girls soccer team is the only one to buy the new equipment at Loudon High School. They raised the money through several fundraisers.