Loudon County missing man found dead Saturday
HAYLEY HARMON 6 News Anchor/Reporter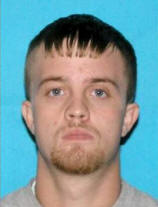 LOUDON (WATE) - A Loudon County man who had been missing for a nearly a week was found dead Saturday afternoon.
23-year-old Cody Jackson of Loudon was reported missing on Tuesday, after his fiancÚ said he did not come home Monday night.
After days of searching, Loudon County Sheriff's deputies found Jackson's body just after 3 p.m. Saturday.
He was found at the bottom of a deep ravine in some woods located off Vonore Road in Loudon County.
Jackson's fiance told deputies she last spoke with him around 7 p.m. Monday night on the phone. She said he sounded incoherent at the time.
A tip led police to Jackson's abandoned truck, found in the front yard of a home off Vonore Road on Thursday.
Friday morning, search crews began canvassing the area where the truck was found.
Crews found his wallet and one of his boots in the woods a few hundred yards from where the truck was found.
"Once we found that, we kind of centered our search around that area for a couple of hours, just checking that area," said Assistant Chief Deputy Jimmy Davis of the Loudon County Sheriff's Office.
Saturday, as many as 50 searchers continued to look for Jackson.
They had people out on foot, ATV's, and K-9 units. They also had teams on boats combing the nearby river.
A group of searchers found him in the ravine only about 150 yards from the searchers command post.
Davis says there were no signs of foul play, and that Jackson appears to have died from exposure to the elements.
Deputies say Jackson leaves behind a fiancÚ and a young son, whom friends and family told police he loved very much and never went a day without seeing.
The more days that went by since he was last seen, the more afraid search crews became that he wouldn't be found alive.
"Him not trying to contact his little boy, it makes you wonder," said Sheriff Tim Guider of the Loudon County Sheriff's Office.
Authorities say an autopsy will be performed to determine an official cause of death.