Loudon County Woman killed in Hwy. 11 wreck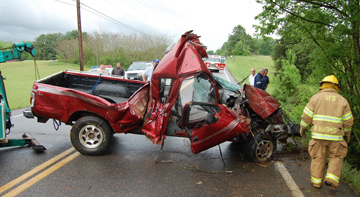 The Advocate and Democrat

A one-vehicle crash just before noon Sunday on Highway 11 north of TMG killed a Loudon County woman and seriously injured the driver. According to Sweetwater Police, Laura Morrow Flippin, 33, Philadelphia, died after she was thrown from the 1994 Toyota pickup truck she was riding in when the truck went down a steep embankment.

The driver, Charles L. Powell Jr., 53, Philadelphia, was transported to UT Medical Center in Knoxville by a Monroe County ambulance. Due to inclement weather, medical helicopters were unable to fly. Powell was listed in stable condition Tuesday.

A witness to the accident, Auxiliary Sweetwater Police Officer Danny Poe, told SPD Officer Jim Kile he was traveling behind the southbound truck when it suddenly drifted off the road and traveled on the side of the road before the vehicle struck a tree. Poe said the driver never attempted to get back on the road and he never saw the driver apply the brakes. Poe estimated the truck was going 40 to 45 miles per hour before leaving the road and said he did not observe any erratic driving before the wreck.