Loudon County wanted man found in golf course bathroom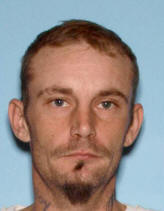 LENOIR CITY, Tenn. (WATE) – The Loudon County Sheriff's Office says it has finally located the second of two suspects believed to have robbed a woman at gunpoint and then ran off.
Deputies say they found Roy Bradford Jarrell, 33, Monday evening in a bathroom on Avalon Golf Course. He was wanted for aggravated domestic assault. He is 6 feet 1 inch tall, weighs 165 pounds and has hazel eyes, brown hair, tattoos and a goatee. He was last seen wearing a white shirt and camouflage pants.
He and another man were wanted for robbing a woman they know at gunpoint on Buttermilk Road.
Police on Sunday were searching door to door for Jarrell and the other man. The first suspect was arrested on Sunday.