Loudon County Sheriff's Office


12680 Highway 11 W. Suite 1
Lenoir City, TN 37771
Records (865) 986-1770
Jail (865) 986-6612
Administration (865) 986-4823
FAX (865) 986-3621

HUMAN REMAINS FOUND IN JANUARY IDENTIFIED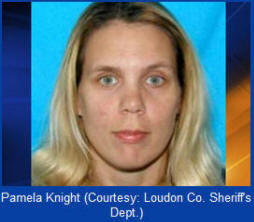 Loudon County Sheriff Tim Guider announced today the human remains found January 19 in a wooded area in Loudon County have been identified.
The remains are that of Pamela K. Knight of Knoxville, who was 35 when she disappeared from her home on Bruhin Road in Knoxville in October 2005. Knight's remains were identified through dental records.
Knight's remains, which were wrapped in a comforter, were found in a wooded area off Eblen Road in Loudon County near the Roane County line January 19 by individuals searching for scrap metal.
Law enforcement personnel with Loudon County Sheriff's Office and Knoxville Police Department are working jointly to follow up leads on the case.
Anyone who has any information regarding this case is asked to call Lt. Patrick Upton with the Loudon County Sheriff's Office at (865)986-4823.
---