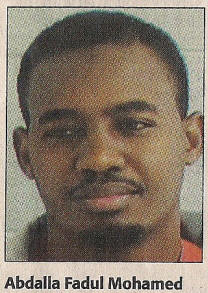 LENOIR CITY — A Loudon County medical technician is behind bars this morning after being arrested for allegedly raping a female patient.
Abdalla Fadul Mohamed, 25, of Knoxville, was arrested on the felony charge following the Feb. 8 incident at a medical facility at 689 Medical Park Drive in Lenoir City, court papers show.
According to a Lenoir City Police Department arrest warrant, the victim went to the facility to have an EEG conducted on her brain. An EEG is a test that measures the electrical activity of the brain. Special sensors are attached to the head and hooked by wires to a computer.
Mohamed escorted the victim to a room, had her sit in a recliner and conducted the test, the warrant states. When the test was complete, Mohamed allegedly held the victim down, removed her pants and raped her.
The victim told officers she tried to scream for help, but that Mohamed told her no one would hear her, the warrant states.
The victim then fled the facility, met her mother and alerted police.
A Loudon County General Sessions Court clerk said Mohamed is due back in court next month for a preliminary hearing on the rape charge.