Don Jacobs knoxnews.com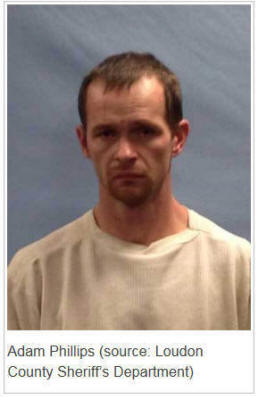 KNOXVILLE — A Loudon County man wanted on felony charges who led state troopers on a chase through deep West Knox County on Monday morning has been captured, authorities said.
Adam Phillips, 24, is in custody, according to an alert posted by the Loudon County Sheriff's Office on its Facebook page Monday afternoon.
The details of Phillips' arrest were not immediately available.
A state trooper first encountered Phillips about 4 a.m. on Interstate 40 near the weigh station around the Campbell Station Road interchange, according to the Highway Patrol.
"He's got a pretty extensive criminal history," Tennessee Highway Patrol Lt. Don Boshears said, including being a suspect in a home invasion incident.
Phillips apparently refused to stop for the trooper and a chase led authorities to El Camino Lane off Watt Road, where Phillips bailed from the vehicle and fled on foot.
The search for Phillips focused on a wooded area around El Camino Lane, with the Highway Patrol launching a helicopter to patrol the area. El Camino Lane runs parallel to I-40 and extends into Loudon County.
Loudon County sheriff's deputies also are involved in the search.