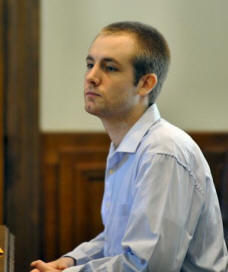 LOUDON — Charged with molesting his 2-year-old son and recording the rape, Edward William Crandall took the witness stand Tuesday and denied the allegations.
But Loudon County jurors didn't buy it.
It took the five-man, seven-woman jury less than 50 minutes to convict the 24-year-old father of felony sex-related charges during his one-day trial. Jurors found Crandall guilty of aggravated child rape, sexual exploitation and aggravated sexual exploitation of a minor.
He cried when the jury foreman read the verdict.
"He raped his son, he took a picture of it and he downloaded child pornography," Assistant District Attorney General Frank Harvey told jurors in closing arguments.
Judge Eugene Eblen set sentencing for Oct. 31. Crandall, behind bars until then, faces prison time for the felony charges.
At the time of his arrest Crandall was not married but had visitation rights with his son, who lived with his mother. The incidents, testimony revealed, took place at a home where Crandall lived in the Dunn Ridge community of Loudon County.
He was arrested in early July 2010 after being confronted about images involving his son and other child porn images found on a computer at the home, said Harriman Police Department Detective Dan Schneider, one of four state witnesses who testified. None of the acts occurred in Harriman, but Schneider was involved in the investigation because the HPD is part of the Internet Crimes Against Children Task Force.
A monthlong investigation and subsequent search warrant, Schneider testified, resulted in the seizure of a media card, a digital camera and a laptop computer in a camper where Crandall lived beside his grandparent's home. The media card showed naked photos of Crandall's son and one explicit image of a man and Crandall's 2-year-old son, who authorities testified was Crandall.
The computer, testimony revealed, had about 200 images of child porn and about 25 child porn videos.
Schneider testified that when he confronted Crandall about the images of his son, he said Crandall at first was calm, but then cried and admitted he molested the toddler. Crandall told authorities he got excited after giving his son a bath.
He also testified that Crandall wrote an apology letter to his son after he was confronted about the incident by authorities.
"I love you so much," Schneider said as he read Crandall's handwritten note from the witness stand. "I'm so sorry. I wish I could take back what I did that day. Daddy's gonna get help buddy."
Crandall, represented by defense attorney Kent Booher, testified he never told authorities he raped his son or took pictures of his son being raped. He blamed his brother, Christopher Crandall, for taking the photo of his son being molested. He said his brother had been living in the camper with him because he was "on the run from the law."
Edward Crandall also claimed his grandfather on his father's side had molested him when he was a boy and said when he wrote the letter he was apologizing for an incident during which he lost his temper in front of his son.
But during cross examination from prosecutors, Crandall said that what officers told him about his son's predicament shocked and angered him.
"But it didn't anger you. You sat there and cried," Harvey shot back. "Then you wrote the letter."