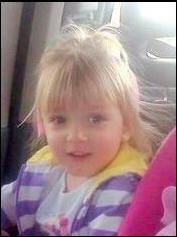 Rory Eller, a 4-year-old Loudon girl who was battling brain cancer, died Wednesday in Indiana.
10News first reported Rory's story in September 2011 when the little girl was honored during the 8th Annual Deputy Jason Scott Memorial Bike Ride. At the time, Ashley Eller, described her daughter's illness as grave.
"She's got a benign brain tumor, and typically, they would cure it with surgery, but hers is located, it's growing around her thalamus, which is located in the middle of her brain," Ashley Eller said. "They can not surgically remove it without killing her, so she goes to chemo every two weeks. They tried chemotherapy, and it didn't work, so we're on our second one, and we have a few more to go if this one doesn't work."
A teenager fatally shot Deputy Scott during a standoff back in March of 2004. He was the first Loudon County officer to be killed in the line of duty. The first ride raised money for the deputy's daughter, Jayden, who was born after his death.
The memorial ride has continued every year since, but organizers later decided to use the funds raised to help a child in need in the community, and the latest child helped was Rory.
The little girl was a student at Loudon Elementary School and wanted to be a ballerina and play soccer, according to her obituary.
The family will receive friends between 1 and 4 p.m. Saturday at McGill-Karnes Funeral Home in Loudon.
The funeral is set for 2 p.m. Sunday at New Providence Baptist Church. Burial will follow in Loudon County Memorial Gardens.