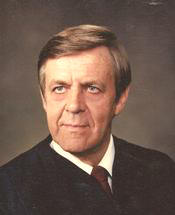 John Otis Gibson – age 81 of Loudon, passed away Tuesday morning, March 6, 2012 at Park West Hospital surrounded by his loving family.
Born in Greene County, TN, a graduate of Washington College Academy, East Tennessee State University and the University of Tennessee Law School, John came to Loudon County as an attorney in 1957 with the law firm of S.P. Dannel of Lenoir City, later moving to Loudon with the firm of Fowler and Gibson where he practiced law for many years before being elected General Sessions Judge.
John was a member, elder and Sunday School teacher at the Loudon Cumberland Presbyterian Church, a veteran having served in the US Army; former Loudon County General Sessions Judge serving 16 years, City of Loudon Municipal Judge, a member of the Piney Ruritan Club, the last active charter member of the Loudon Rotary Club, member of the Ivo Sanders American Legion Post 120 for more than 50 years, a proud and faithful member of the Loudon County Veterans Honor Guard, the Loudon County and Tennessee Bar Associations and the McGill-Karnes Breakfast Club. John was a man that loved his God, his Family and his Country.
He was preceded in death by his infant daughter, Dee Dee Gibson and parents, D.K. and Lucille (Wykle) Gibson; father in-law and mother in-law, Charles Edgar and Anna Williams.
Survivors include his wife, Irma Williams Gibson; daughters and sons in-law, Susan and Matthew Shelton, Knoxville, Stacy and Rick Moore, Knoxville, Carol Gibson, Loudon, Debbie Downs, Loudon; son and daughter in-law, Kent and Leigh Ann Gibson, Lenoir City; grandchildren and spouses, Dain Jacob Shelton, Brayden Lee Moore, Emma LuAnn Moore, LaStar and Jonathan Yates, Heather and Brian Kelch, Erin Webb, Christina Webb, Hayden Webb, Chaya Gibson; Great grandchildren, Isaac Kelch, Zachary Kelch, Baylee Yates and Alexander Yates; sister, Gilda Cook, Schertz, TX; special sisters in-law, Jane Campbell and Sue Brookshear, Lenoir City; many nieces, nephews and friends.
Services honoring and remembering the life of John O. Gibson were held 7:30 PM Thursday, Loudon United Methodist Church with Rev. Walt Simmerman officiating. Interment was Friday in Loudon County Memorial Gardens with full military honors provided by the Loudon County Veterans Honor Guard.
Contributions in memory of Mr. Gibson may be made to the American Cancer Society, P.O. Box 154, Loudon, TN 37774.