GENE PATTERSON-6 News Anchor/Reporter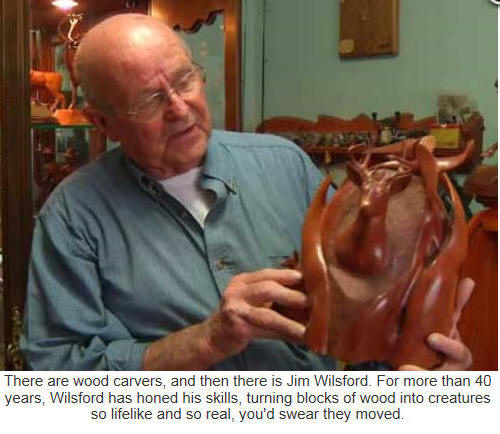 LENOIR CITY (WATE) - There are wood carvers, and then there is Jim Wilsford. For more than 40 years, Wilsford has honed his skills, turning blocks of wood into creatures so lifelike and so real, you'd swear they moved.
"The knife and the chisel were my primary tools for many years. The power tools got to make it easier," said Wilsford.
Wilsford says he began carving out of necessity. In the 1970's he opened a store in the mountains and wanted wood pieces to sell.
"I could find a little bit of it and I thought, 'Wow. That is expensive.' And I thought that until I tried to make one and I figured out, no its not too expensive," he said.
What he found was that wood carving, done right, was time consuming. He told us he spent 40 hours on one piece that looks like a wolf.
Wilsford says he doesn't consider himself an artist, though his works would suggest otherwise. He says over the years, he's learned some things about animals and their bodies. There is a symmetry, he says, that makes carving an exercise in math.
"The muzzle will tell me how me how big to make his feet. The length of his head will tell me how long to make his body and how high to make his body."
He was so convinced of his technique that he began to teach people all over the country how to carve. Now four decades later, he figures he's taught more than 10,000 students..
"My oldest student comes up from Mobile, Alabama. She drives up, works with us for four or five days, and she's 86 years old," he said.
Wilsford had a regular job and retired from Delta Airlines, but wood carving has always been his first love. His works and his classes have provided him with extra income over the years, but that's not why he does it.
He still enjoys the solitude of his workshop, the excitement and potential of a block of wood, and the hours he spends toiling away digging out the creatures large and small, even after all these years.
"Sometimes we just need a few minutes, and this is my quiet place, and sometimes we just need a few minutes alone. And this is my quiet place and every once in a while, I've got a good soft chair, I take a nap here," he said with a laugh.
More online: Jim Wilsford, Wildlife Wood Carver (Facebook)