By Hugh G. Willett knoxnews.com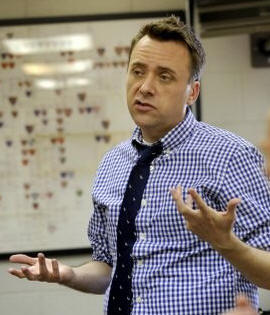 LENOIR CITY — A high school journalism teacher at the eye of the recent storm over articles in the student newspaper and yearbook said he loves to teach and he's proud of his students.
"If you are doing it right, teaching isn't an easy career. You have to love it and love what you teach. If you do, and your students can see that, they will buy into the process and then there's no limit to what they can accomplish," James Yoakley said Monday at Lenoir City High School.
Some community members object to a student-written article in the new yearbook that describes the experiences of a gay student. The issue gained national attention after a Loudon County school board member suggested Yoakley be investigated for unduly influencing his students.
The English department chair at LCHS, Yoakley said he was surprised by the negative response to the yearbook article but also notes that he has received much more positive feedback.
He also has urged his students to be proud of their work.
On Monday, Yoakley read aloud to his class a letter from a Chattanooga teacher supporting the article and the decision to publish it. The class also discussed submitting the yearbook for awards, including Theme and Concept.
"In the six years I've been working on the yearbook this is the best we've done," he said.
According to Yoakley, the profile of the gay student was written within the context of this year's yearbook theme entitled "In My Element."
"The editor tried to capture the school from all the different ways and places students fit into the school community. She did it quite well. The gay student was just one of many 'elements' we covered," he said.
In the article, Zac Mitchell talks about once being unable to fit in because of his sexuality and later winning acceptance from fellow students.
"When Zac first came to this school he had to use the bathroom in the office because he was bullied so much. Now nobody notices him. He's come so far," Yoakley said.
The yearbook featured several other student profiles, and all of the "elements" were suggested by students, he said.
"I can't tell them what to cover. It's their school. They know the students; they know what's happening. They have to construct, create, design, develop, formulate, and write," he said.
Loudon County school board member Van Shaver has objected to the article and raised questions about it on his blog, www.vanshaver.com. Loudon County's board does not oversee the high school, which is part of the Lenoir City school system.
Shaver said he has been subjected to intolerance from those who disagree with him. He said he has received threats and other hostile communications in the form of emails and phone messages.
He's seeking a full investigation into the yearbook advisers.
"If the investigation finds that there have been no laws broken or no inappropriate actions by adults at the high school, I'm sure we will all be glad. But if it is found that any adults had any illegal and or inappropriate communications, contacts, tweets etc., hopefully those adults will be held accountable to the full extent," he said.
Yoakley believes the student staff should have enough independence to cover the stories that make the school "the school."
"There's no higher form of learning than creating, and you have to have independence to create. I could create the book, but then it would be my book and not representative of the students," he said.
The same philosophy holds true for students working on the school newspaper, he said. Student editor Krystal Myers made the decision on her own to write about her experiences as an atheist, a topic that administrators later decided was not appropriate for the newspaper.
The News Sentinel in February published Myers' essay as well as a story about her stance.
Despite negative feedback from outside the school, Yoakley said that as of the end of last week, no administrator had spoken with him about the yearbook controversy. He loves teaching and hopes the recent controversy doesn't impact his employment with Lenoir City Schools. He's in his 11th year at Lenoir City.