KRISTIN FARLEY-6 News Anchor/Reporter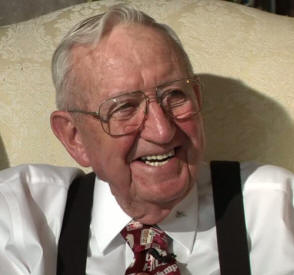 LENOIR CITY (WATE) - The Wampler family has been making sausage in Lenoir City for more than eight decades.
Workers at Wampler's Farm Sausage can crank out more than half a million sausage patties a day and thousands of packages of bulk sausage every hour.
Next the sausage is flash frozen and shipped all over the United States.
When asked about the secret recipe that keeps the business thriving, Ted Wampler, Sr. said, "I have always said there is no secret ingredient in our product. I'd be scared to eat something that was a secret."
With a chuckle, Wampler shared more about the early years of the business. "If we ground sausage the same way my Mom and Dad did, we would have to have every man, woman and child in Loudon County to grind sausage all day long."
Business is booming today, but there were very humble beginnings. The business started in the 1930s with just a small slaughter shack and supplies totaling $38.
"We started out with basically a one-man store. Now we employ about 160 at this plant here," Wampler said.
It was Ted Sr.'s father, Riley, who started the company by processing hogs for neighbors. They shut down the slaughterhouse briefly in the 1940s, but then a new trend helped bring Wampler's sausage to the general population.
"After World War II, little mom and pop stores sprung up everywhere so Dad suggested we re-open the slaughter house. So we did. We each invested $1,100."
By the 1950s, it became a corporation, and in 1981, the family officially changed the name from Wampler's Wholesale Meats to the name we know today, Wampler's Farm Sausage Company.
"It has outgrown my expectations," Ted, Sr. said.
However, his children and other family members who run the business still have big goals. They're currently rolling out new products like Wampler Burgers, which you'll soon be able to buy in area grocery stores.
Wampler's also makes several private label sausages and provides the sausage for some restaurants like Bojangles.