Lenoir City Police Officer in trouble for "You Tube" video

By: Yvette Martinez, Reporter WBIR TV
Date created: 7/16/2007 7:45:17 PM
Last updated: 7/16/2007 8:48:42 PM

VIDEO

Lenoir City's Police Chief is leading an internal investigation into a video posted on the website www.youtube.com starring some of his police officers.

Chief Don White is calling the video inappropriate and has already placed one of his part time officers on administrative leave for the clip.

The video which contains lewd graphics, homosexual references and dialogue about pornography has been pulled from youtube.

10 News spoke to part time Lenoir Police Officer Marc Grossbard on the phone on Monday. He said he did not post the video on you tube and wasn't aware of all the video's content. Grossbard went on to say he was testing out a new camera and never meant for anyone to see the video.

"It was never his intent to have that thing published to the world and as you can imagine he's a little emotional about that today especially since his job is on the line," Kent Booher, Grossbard's attorney, said.

Grossbard and his attorney say fellow part time Lenoir Police Officer Kevin Walker posted the video, adding the lewd graphics to a portion featuring a convenience store clerk.

"I'm not sure that Kevin understood or really grasped how much problem this would cause," Booher added.

Booher explained Walker posted the video as a joke, but Lenoir City Police Chief Don White isn't laughing. "They're a part of Lenoir City and we want them to always conduct themselves in a professional manner and this is something we're not going to tolerate," White said.

Officer Grossbard was in uniform for the video and portions were shot in a patrol car. "I feel that it is a bad reflection and he was obviously using city property while this was being made so that's against our policy for sure," Chief White added.

The apparent joke has put Officer Grossbard on administrative leave and more suspensions could follow during an investigation to find out if the officers were on duty during filming.

"We have a good police force getting better everyday and that's the sad thing about something like this it not only does damage to the whole community but it does damage to a police department," Lenoir City Mayor Matt Brookshire said.

Chief White says Grossbard has been with the department for 10 years, starting his career as a reserve officer.

White promises the community a swift investigation that he plans to finish this week.
---
Lenoir City police officer on leave after posting YouTube video

Officer Marc Grossbard, starring in "Memoirs of a Lonely Policeman."
VIDEO
VIDEO 2

July 13, 2007

By JEFF LENNOX
6 News Reporter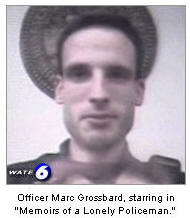 LENOIR CITY (WATE) -- A Lenoir City police officer has been placed on administrative leave after posting a video of his night shift on the popular Internet site YouTube.

The video clip was removed Monday morning, minutes after 6 News contacted the police chief for comment.

Officer Marc Grossbard starred in the clip called "Memoirs of a Lonely Policeman" and posted it on YouTube. It appeared there under the summary "Lonely Nights."

During the clip, which lasted a little over 10 minutes, Grossbard went into a Pilot station in Lenoir City where he spoke to some other officers in uniform.

One officer pointed to another officer and told the camera that was his lover. Both officers are male.

Also in the Pilot station, Grossbard turned the camera on a female clerk behind a register, asking her to step into view but she refused. A caption added at the top of the screen read, "Me sooo horny."

Other portions of the tape featured Grossbard speaking in a Scottish accent while he drove a police cruiser. He mentioned having worked as a "personal waxer" for a porn star named Ron Jeremy.

The video clip said it was, "A preview of a small film from Angry Scotsman Productions." It was added eight months ago and had 128 views. It received a five star rating.

YouTube now displays a message that says, "This video has been removed by the user."

WATE.com will add more details to this report, after interviews Monday at the Lenoir City Police Department.