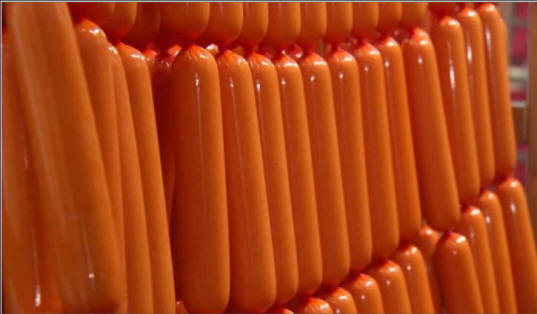 LENOIR CITY (WATE) – As we head into Memorial Day weekend, chances are many of you will have a cookout that includes a hot dog or two. Did you know there is only one place in Tennessee still making hot dogs and it is right here in our backyard?
Family Brands CEO Harry Wampler has been working at the plant in Lenoir City for decades. Modern equipment now helps them produce nearly 50,000 pounds of hot dogs a day, something unimaginable when they first opened in the 1960s.
"When we first started here in '65, we hand peeled them. I guess we could do 2,000 to 3,000 pounds a day," Wampler said as he took us on a tour where they make the hot dogs.
They make more than 30 different kinds of hot dogs, sold under several different labels. Possibly their most popular, the Elm Hill hot dog, is served at Dollywood and Smokies Stadium and sold in area grocery stores. Wampler says the secret to their hot dogs is high quality beef, pork and a distinct mixture of spices.
"Some ginger, some garlic, some onion powder," he said.
All of that is ground up and mixed together before being pumped into vats. Then the mixture is piped into the casings. After that, the hot dogs are cooked in a smokehouse until they are at least 160 degrees. From there, it's time to cool them down and peel them.
They have one machine that can remove the casings on 90 feet of hot dogs in just 10 seconds. From there, we watched as thousands of hot dogs were sorted, packaged and boxed for sale.
Most of their hot dogs are made with beef and pork, but they do have a few with chicken. They also have a red hot dog. Wampler says there is not much difference in the taste, but apparently in Georgia and the Carolinas, they seem to prefer the red ones. They get their color from the casings and they are sold there under a different name.