DON DARE -6 On Your Side Reporter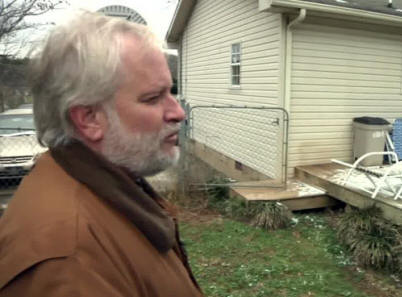 LENOIR CITY (WATE) - A Lenoir City man took the roofer he hired to court after more than six months with no work done on the contract.
6 On Your Side has reported many stories about roofers since the spring and summer storms hit East Tennessee last year, but a report on a roofer doing no work at all is a first.
The hail storm in April 2011 damaged the roof at David Twiggs' home. His insurance adjuster checked the damage and approved a new roof.
"We decided to go with a metal roof because that gives you the longer warranty," David said. It took him about a month to find a contractor.
On June 11, he signed a contract with Hawkins Construction. Jason Hawkins said the metal roof would cost $5,800.
Hawkins told David he'd likely start the job in a few weeks, but he needed half the money up front for the special order.
David wrote the contractor a check for $2,800. "July the 11th and we're still here without a roof," David said with a laugh.
He said Hawkins apologized for the delay, claimed he was busy and would start the roof soon.
"So I wait, don't hear from him. I call him again. The second time he quits returning my phone calls," David said. "No call, no nothing. In the meantime, I find out that a neighbor had contracted him and he did the same thing, took half the money."
David said by August, he tracked down Jason Hawkins and politely asked him to honor his contract.
"He said, 'Well the contract you signed is two way and it doesn't include a deadline.' I said, well you can't go on forever."
In May, David's insurance company approved the repairs for the roof and sent him the check.
"That's what I can't understand either," David said. "The money was sitting in a bank account, SunTrust Bank, to do the roof. We should be able to trust somebody that they will do what they say they'll do when you ask for a service."
Fed up with the long delay and no apparent attempt to start the job, David consulted Andrew Pate, a friend who's an attorney. They came to Loudon County court and filed a lawsuit.
"He breached a contract, said he wouldn't fix the roof," Pate said.
At first, Pate says he tried to reason with Hawkins Construction. "We said you can give us our money back. We won't take you to court. He said he already spent some of the money getting some parts for the roof."
Hawkins was accused of claiming the contract had no start date, but you can't get away with that legally.
"If you don't supply a date for performance, then the law says it's a reasonable period of time. And our contention was six months is not a reasonable period of time to fix a roof," Pate explained.
The judge ruled in favor of David. Jason Hawkins was a no show in court.
David was awarded $3,000. His attorney was able to put a levy on Hawkins' bank account and collected $1,100.
This has been a lesson for David. "Don't pay them up front. Don't pay any part of it up front."
6 On Your Side spoke with Jason Hawkins late Wednesday. He says he's shutting down his construction business, claiming work "has been slow."
We questioned him about that because when you look around East Tennessee, roofers are still busy thanks to those storms.
Hawkins said he plans to repay David the full amount of his deposit.