Lenoir City man charged with child rape
From Staff Reports News-Herald.net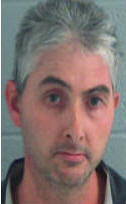 A Lenoir City man was arrested on three counts of rape after a 4-year-old boy described in graphic detail incidents that took place over three days beginning Dec. 29 at a residence in the 3000 block of Hines Valley Road.
During interviews conducted by the Kids First Child Advocacy Center of the Ninth Judicial District and the Tennessee Department of Child Services, the boy told officials that Terry Lee Shelton, 36, Lenoir City, "touched me here" and pointed to his crotch area, according to Loudon County Sheriff's Office Inv. Jeff Russell's arrest report.
The boy told DCS that Shelton, a boyfriend of the child's grandmother, took his hand and placed it on the man's penis, motioning to officials what he was instructed to do, Russell wrote, noting that Shelton also had the boy place his mouth on the man's penis.
During an interview with Shelton, police learned that on Dec. 29 the boy was in the bed with Shelton as his grandmother was asleep. As Shelton was watching a pornographic movie with the boy, he "did place (the boy's) hand on his penis and had him to masturbate him and also had him perform oral sex on him," Russell wrote.
Shelton said a similar incident happened Jan. 2 and Jan. 3.
"When asked the location (of the incidents), he said every time was in his and grandmaws bed while he was asleep while watching movies," according to police.
Shelton was charged with three counts of rape of a child and held on $450,000 bond.