Lenoir City horse trainer's trailer stolen at show in North Carolina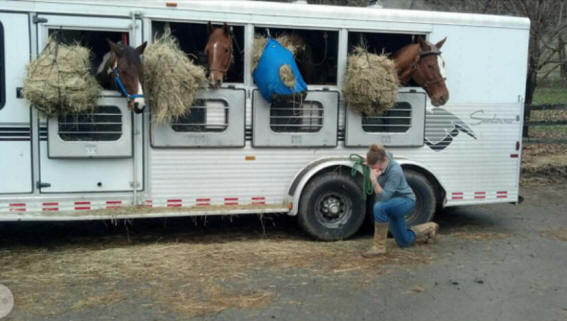 LENOIR CITY, Tenn. (WVLT) - A Lenoir City horse trainer who traveled to North Carolina for a horse show, had her trailer stolen during the competition. Erika Adams runs Road Less Traveled Eventing Team and owns Yellow Wood Farm in Lenoir City. She said she arrived at the Tryon International Equestrian Center late Tuesday to compete in a Jumper show. She parked her 1999 Sundowner four-horse slant load trailer in the designated trailer parking across the interstate from the complex. Adams said the facility had no fence or cameras.
As soon as she realized the trailer was missing, Adams said she called security and then filed a report with the Polk County Sheriff's Office in North Carolina. According to Adams, the responding deputy said a golf cart had also been taken, something very unusual for the area.
After filing the report, Adams said she visited Farm House Tack in Landrum, South Carolina to replace the supplies that were taken along with the horse trailer. Adams said the store offered her a discount on boots, pants and other items because of the circumstances.
Adams arranged to have a friend transport her horse "If" back to East Tennessee.
Adams said, "That trailer was a part of my business for over 15 years. Not only were there expensive items in there, but sentimental things as well. I'm just as torn about the loss of those things. The beauty of this shockingly unfortunate event is how swiftly the equestrian community rallies to help one in need."
Members of the Road Less Traveled Eventing Team created a gofundme page to help Adams cover the losses.
Organizers of the fundraiser said, "While insurance should cover some part of replacing the trailer, due to its advanced age, Erika likely won't get nearly enough to purchase a comparable rig. Plus she also has thousands of dollars in equipment to replace. All money raised will help her replace her trailer and then replace some of the gear that was lost in the theft too."