Lenoir City health teacher named WATE 6 On Your Side Hero

Wendy Miller goes above and beyond for her students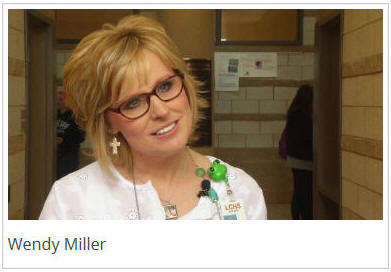 LENOIR CITY (WATE) – It's only fitting that, during Teacher Appreciation Week, a teacher is named WATE 6 On Your Side Hero.
Staff and students lured Lenoir City High School health science teacher Wendy Miller into the hallway outside her classroom earlier this week to surprise her with the WATE 6 On Your Side Hero award. This caring teacher teared up when she learned one of her students nominated her for the award.
Brooke Steele was also surprised by WATE 6 On Your Side's visit, immediately hugging her favorite teacher, saying, "She's definitely my hero."
"I don't deserve this," Mrs. Miller said. "She's just every teacher's dream. She is."
Steele shared part of the essay she submitted about her teacher and a project Miller heads up with the HOSA club called "Pennies for Patients."
"She made Pennies for Patients not only her goal, but our whole school's goal. Together, our school came together and raised thousands of dollars for this cause," Steele read.
Thanks to Miller's efforts, Lenoir City High School is the top high school in the state in the fundraising campaign for the Leukemia/Lymphoma Society, bringing in more than $8,000.
"My mom died of a blood cancer three years ago, and so it's really dear to my heart. My number one job I felt like when I came here was obviously to teach them medicine, but more importantly, to teach them to care about others, " Miller said.
Miller is a former respiratory therapist whose passion for teaching lured her to the classroom 10 years ago. Administrators at Lenoir City High say she has great skills as an instructor. It's all about hands-on learning, but there is so much more that sets her apart.
"Her relationship with her students is what makes her so special." Assistant Principal Melanie Harris added. "Everyone that she teaches is like her own child. She just has a special relationship with them. She is one of the teachers they can go and talk to if they have a problem or joys."