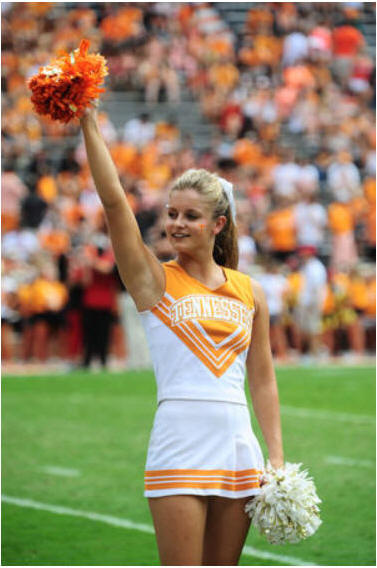 Hannah Mabry is in the middle of her senior year with the University of Tennessee cheer team and is cherishing the final few months.
"I'm just extremely grateful for the opportunity I've been given here," she said. "It's been much better than anything I could have ever imagined. When I first came here I'd only cheered one year in high school, and I had no idea the obligations we would have."
Mabry said she knew the team would cheer at football and basketball games, but cheering at volleyball games and making appearances at other sporting events was a welcome surprise.
She said the experience was especially surprising because Mabry only cheered one year in high school as a senior after taking part in competitive gymnastics from age 6 to 16.
"I knew I wanted to come to the University of Tennessee, so I spent my senior year just training the skill I already had to accommodate cheerleading and not just gymnastics," she said.
And with just one year of cheering under her belt, Mabry wasn't sure she would even make the team at Tennessee.
"I had no idea," she said. "Honestly, I didn't really expect to make the team. I knew I wanted to, but I had no idea what I would be going up against. I just knew I should try out because I would regret it if I didn't."
Now, four years later, it has been one of the best experiences of her life, from the Vol Walk before home football games, which Mabry said is special because of the fan interaction, to the time she spends with her teammates has made the time Mabry has spent at Tennessee memorable.
This year Mabry has the chance for a new sort of experience. With the football team qualifying for its first bowl game, the TaxSlayer Bowl in Jacksonville, Fla., since she arrived at Tennessee, Mabry will have a chance to attend her first bowl game as well.
"I don't know what all happens, but our coach has told us there will be a lot of different activities like parades and pep rallies the day before, I think on January 1, so I'm excited about that," she said. "Most games we travel to, sometimes we'll have something small before the game, but usually we just show up and cheer the games. There's not a lot of pep rallies being put on for Tennessee at away games. I'm excited about everything we'll get to do to pump up our fans beforehand."
Mabry, a kinesiology major who plans to apply to a physician's assistant school in the fall, has plenty left to look forward to after the season football wraps up.
"Two weeks after we get back from the bowl game we will be back in Florida in Orlando for college nationals," she said. "We compete against other schools across the country. I'm excited about that, that's also one of my favorite things."
Cheering at the SEC basketball tournament will be another highlight.
"That's always exciting," she said. "I know last year the Lady Vols won, so that was a big deal for Holly (Warlick) and the team."
When all is said and done, Mabry will look back less on specific events and more on the relationships she built with teammates, she said.
"Coming in I had no idea how close I would become with a lot of my teammates," she said. "I guess like some people have their sorority sisters and things like that, this is, like, our own little group, and nobody quite understands it until you're a part of it. I'll probably look back and just cherish all the friendships and relationships I've formed through this."