LAURA HALM 6 News Reporter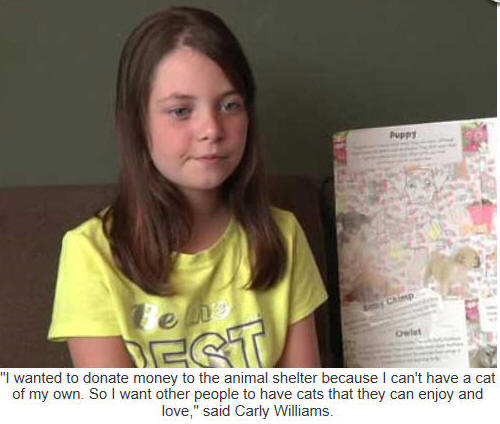 LENOIR CITY (WATE) - A birthday wish from a Lenoir City girl saved more than a dozen cats and kittens at a local animal shelter. Loudon County Friends of Animals recently received a big donation, all thanks to Carly Williams, 9.
Last year, the little girl donated about $100 for her eighth birthday, but this year she wanted to do something bigger and better to make a difference.
"I wanted to donate money to the animal shelter because I can't have a cat of my own. So I want other people to have cats that they can enjoy and love," said Carly.
She gave all her money, a total of $510, to the rescue organization Loudon County Friends of Animals which works directly with the county's animal shelter.
"Well seeing those cats, they just looked up at me and said 'Thank you! Yay! Thank you,'" added Carly.
This heartwarming gift should save between 16 to 17 cats.
"Carly is paying $35 of the adoption fee for all the adult cats down here and we're hoping it gets them all adopted," said founder of the rescue organization Kimmey Goodson.
Even receiving this much money was a surprise for the Williams since they simply asked family and friends to bring a donation instead of a gift to her party.
"I'm extremely proud of her. We were shocked to even get that much," said her mother Crystal Williams.
It was a birthday wish from a little girl, who one day hopes to be a veterinarian, that these animals find their forever homes.
"I wanted to save the older ones and the kittens because they're both special," said Carly.
So far two kittens have already been adopted through this sponsorship. If you'd like to adopt one of these cats or kittens, you simply need to visit the Loudon County Animal Shelter and mention Carly's donation.
We've also learned this was the largest monetary donation to the Loudon County Friends of Animals rescue organization from an individual in the group's two year history.