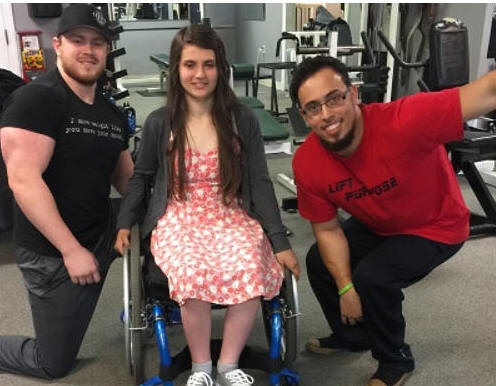 LENOIR CITY, Tenn. (WVLT) --
It wasn't just another day at the gym on Saturday when dozens of guys competed with their strength to help a young girl regain hers.
Sarah Perez was just 9-years-old when doctors told her she would never walk again after a car accident that left her paralyzed her from the neck down.
As grim as that news was, it didn't stop Sarah. She began treatments at Project Walk Atlanta, a clinic that specializes in treating people with spinal cord injuries. Her time there has helped her regain strength all the way down to her hips.
"I was paralyzed from the neck down in the beginning after my car accident and it has helped me get my muscles back all the way down to my hips and I could not be more thankful for that," says Sarah.
Sarah, now 13-years-old has been traveling to Atlanta every weekend for two and a half years, but the cost of $100 an hour for therapy has become a burden on her family.
That's why several guys decided to head down to the Lenoir City Fitness Center Saturday morning in hopes of raising money for Sarah by having a bench press competition.
Those who participated were separated into different weight classes and tried to bench as much as they possibly could. Each participant also gave a $25 entry fee and all together they raised $700.
Founder of Lift With Purpose Alex Nicely, who was born with Cerebral Palsy, says the money that was raised for his physical therapy made a big difference in his life and inspired him to put on events to help others with physical disabilities.
"It really made a difference in my life. I wouldn't be walking standing in front of you right now if that wasn't the case, so later on in life I felt like I needed to give back. I fell in love with two things, helping people and lifting weights," said Nicely.
All of the money raised went directly to Project Walk in Atlanta to help cover the costs of Sarah's treatments.
"It was amazing. It was really awesome that they came out to support me like this and I just appreciated it since I've never met any of them. It was really beautiful to see," said Sarah.
Lift With Purpose will continue to put on fitness based events and 5K runs to help children with physical disabilities. If you would like to donate to help Sarah in her recovery, visit liftwithpurpose.com.