GENE PATTERSON 6 News Anchor/Reporter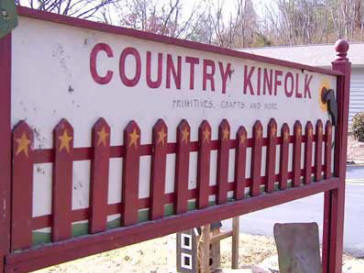 LENOIR CITY (WATE) - Life often takes unexpected turns. For a family in Lenoir City, their path took a dramatic turn when they decided to take a part time hobby and make it a full time business.
The Country Kinfolk store is tucked away along Highway 11 just outside of Lenoir City. The rusted plows and handmade sign out front offers a peek at what you'll find inside.
"It started about four years ago. We did a few weekend trade shows and had a pretty good reception, and we thought 'Well, let's branch out.' And this property became available three years ago and we decided to take advantage of it," said Vince Clayton.

The store, which features a mix of antiques, primitives and handmade crafts, is the brainchild of Vince Clayton, a former TVA information technology director.
Clayton loves working with barn wood. The goal is to repurpose as much as possible.
He showed us a garden shed that was made from repurposed doors and a bench that was once an old bed frame.
We asked Clayton why such simple pieces were so popular.
"It's been timeless," he said. "If you're into country antique primitive, it's good in 2014 and it'll still look attractive in 2020 or 2025. So, it's a timeless art."
Before you think this business is a one man operation, think again. It's a family affair.
His wife and daughters, their spouses and other family members are all part of Country Kinfolk. Together with about a dozen local artisans, the store offers everything from Adirondack furniture to handmade dolls. to soap, to stained glass.
In fact, they have so much that their current space can't hold it all. The business is suffering growing pains.
So, sometime this spring the Country Kinfolk store will move.
"Should be March or early April. We're going to expand and we have a waiting list of vendors. So the move will give us room for more vendors," said Clayton.
More vendors means more items made in Tennessee.
We're told the new store will be on Highway 321 near Hardee's in Lenoir City