Lenoir City clerk resigns after fuss with judge Letter cites 'malice and discontent' at city hall

By HUGH G. WILLETT, news@knews.com
March 24, 2007

LENOIR CITY - Longtime city recorder-treasurer Debbie Cook resigned suddenly Friday over a dispute with Lenoir City Court Judge Terry Vann.

Cook, who has been with the city for 30 years, cited "malice and discontent" at city hall in her letter of resignation.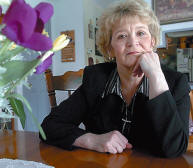 She alleges that her dispute with Vann stems from a time she confronted him over a transfer of funds to a private organization. Vann says the issue is that the city is owed $347,000 in unpaid fines and court costs.

Cook disputes the amount and described a call by the judge for her resignation as retaliation for her questioning his role in a private organization, Friends of Law Enforcement.

She said Vann operated without oversight and transferred revenue from traffic fines into the fund in exchange for dismissing offenses.

"He's mad because I caught him sending funds to an outside organization," Cook said Friday. "He wants control of the clerk's office. He charged one guy $750 to dismiss a speeding ticket in exchange for a donation."

Vann said Friday that the organization was set up three years ago to purchase better weapons and equipment for area law enforcement after the death of a local officer.

"I told people I would appreciate it if they made a donation, but nobody was forced to make a donation," he said. "Not a penny ever went to anybody else or for any other purpose. I donated $2,000 myself."

Both agree the issue was reported to the TBI and the state comptroller's office, and that probes by both agencies resulted in no charges.

Vann said that it was "by accident" that he discovered the city was owed so much money in unpaid fines, and informed City Council. But Cook says the judge's report to council "did not contain the correct figures for uncollected fines," and did not reflect efforts made to collect.

"Some of these people are in jail, some have left the area, so it's not easy to collect every fine," she said.

Cook said that since the dispute began, the atmosphere in city hall has become oppressive, and she fears for her health if she continues in her position.

"I was elected as the recorder-treasurer for my honesty and integrity, and that sort of thing is not popular inside the walls of your building," she said in her resignation letter, which was addressed to the mayor, city council and city employees.

"She's looking for someone to blame for her own neglect of duty," Vann said. "I'm confident that city council will now appoint someone as interim recorder who will give collection of fines and court costs the energy and attention it needs to bring that revenue into the city."

Cook's resignation is effective Monday. Her current four-year term expires in November 2008. The Lenoir City Council is expected to appoint an interim Recorder-Treasurer to the $62,000 per year position, when it meets Monday night. Mayor Matt Brookshire could not be reached for comment Friday.